Song Joong Ki is once again a topic of discussion among KNetz on online discussion forums, and his attitude has drawn attention.
Song Joong Ki demeanor is deemed rude after an interaction with his fans was posted on the Instiz forum, sparking debate among KNetz.
His behavior was considered impolite because he adamantly refused his fans' request for his child's name.
Also Read : The Billboard decision to compare NewJeans with Taylor Swift and others in this category has caught the attention of KNetz
Recently, KNetz on the Instiz forum have once again been debating Song Joong Ki's behavior towards his fans based on a snippet of their interaction.
It is known that an individual, claiming to be a fan of Song Joong Ki, inquired about his child's name, but he responded in a manner perceived as rude.
Here is an excerpt of the conversation between Song Joong Ki and a self-proclaimed fan: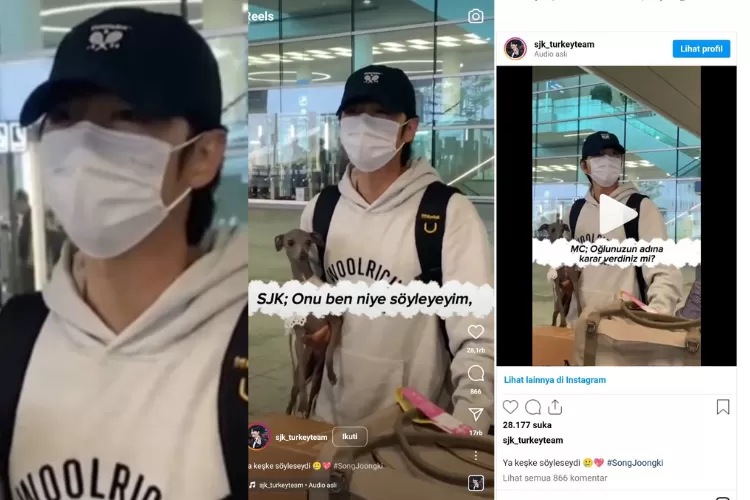 Fan: "Have you decided on your child's name?"
Also Read : After Kwangsoo, Jeon Somin's Departure, Running Man Ratings Fate Highlighted in Korean Media: Who Will Replace Them?
Song Joong Ki: "Why should I tell you?" – a response considered rude by many.
The interaction, as per the source in the form of a video clip, appeared awkward for a few seconds.
The fan, who was presumably a supporter, chuckled lightly, but Song Joong Ki responded once again.
Song Joong Ki: "I was joking, of course, I've decided. I was just kidding."
It turns out that the video clip is an old recording, which has led to mixed reactions among KNetz. In fact, the person asking the question and receiving what some perceive as a curt response from he was not a fan but a journalist.
Also Read : Involved in a Drug Case, the Public Had Already Noticed G-Dragon's Drug Use Due to His Strange Behavior!
The video clip of the interaction with he has been a subject of discussion, with some considering his response quite harsh.
KNetz have mixed opinions on the matter. Some believe it's understandable, citing the importance of family privacy. Moreover, it has been revealed that the person who asked the question was a journalist, not a fan.
Here are some comments from KNetz regarding his attitude:
"If you watch Running Man, you'd understand. Song Joong Ki has a personality like this."
"If he's dealing with a journalist, I can understand."
Also Read: Fix Held in Thailand! Knetz Criticize the Concert Location and Ticket Prices for the 33rd Seoul Music Awards!
"Celebrities must be very tired, there's no issue with that."
"I'd say the same thing."
"Why would he tell them?"
"Of course, he'd be overly sensitive when it comes to journalists and his own family."
"I feel like he was genuinely joking."
"Because his image is bad right now, whatever he does, it looks bad for him."