The South Korean Seoul Music Awards for the year 2024 has announced that Thailand will be the location for this prestigious event. According to Koreaboo, the organizers, Y Global Music, have stated that the 33rd edition of the Seoul Music Awards will take place at the Rajamangala National Stadium in Bangkok, Thailand. Thailand is the first country outside of South Korea to host the Seoul Music Awards in 2024. This prestigious awards show is scheduled to be held on January 2, 2024.
Through the Twitter account @SMA_korea, you can view the seating arrangement and ticket prices for the Seoul Music Awards. However, after the announcement was made, many Knetizens were not enthusiastic; instead, they expressed disappointment.
Also Read : KNetz comment on the nationality of the new girl group member from SM Entertainment
A significant number of Knetizens disagreed with the choice of Rajamangala Stadium in Bangkok, Thailand as the host, and they also criticized the high ticket prices. Here are the ticket categories and prices: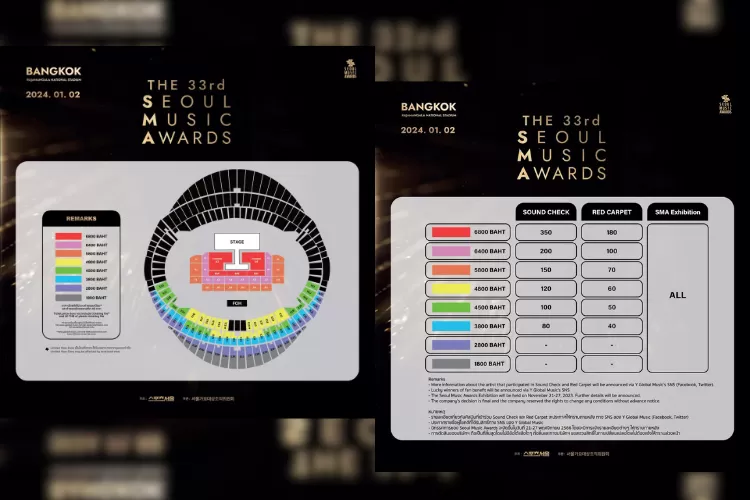 Red category: 6800 baht or approximately 240 USD

Pink category: 6400 baht or approximately 192 USD

Orange category: 5800 baht or approximately 174 USD

Yellow category: 4800 baht or approximately 144 USD

Green category: 4500 baht or approximately 135 USD

Blue category: 3800 baht or approximately 114 USD

Purple category: 2800 baht or approximately 84 USD

Gray category: 1800 baht or approximately 54 USD




(Note: Ticket prices do not include taxes.)
Fans will have the benefit of attending a soundcheck with K-Pop idols performing at the Seoul Music Awards 2024.
Recently, a post by a netizen on Theqoo regarding the SMA event went viral, and many Knetizens expressed their criticism. Here are some of their comments:
"Isn't it the Bangkok Music Awards? Haha, this isn't our country's award show, haha."
Also Read : Beomgyu TXT Pants with 'Gay' Writing Grab Netizens' Attention: Not Controversial.
"No other countries do this, so why are they doing it?"
"Even though it's called the Seoul Music Awards, they're doing it in Bangkok."
"No, why are they holding a domestic award show overseas? MAMA has become common knowledge across Asia, but this is really strange. And the ticket prices are insane, haha."
"They're doing this to sell tickets at high prices, right?"
"This is an awards show with the most expensive seats."
"Everyone is blinded by ticket sales."
"Are tickets expensive when you go abroad? Why do you have to do it overseas?"
Also Read : The songs "Baddie," "Off the Record," and "Either Way" by IVE are compared again: Still haven't entered my ears…
"It's just about money, money, money… What's the use of their own culture being stronger? They're doing it overseas just to make money!" and various other comments.
Pre-order for tickets to the 33rd Seoul Music Awards in Thailand will be available starting on October 29 through the website yglobal-music.com and ticketmelon.com.
In addition, many fans are looking forward to sensational and outstanding performances by K-Pop idols at the 33rd SMA held in Thailand.