Jimin BTS once again caused a stir among fans after he posted a new video on his Instagram account.
Through his Instagram account @j.m, on October 22, Jimin BTS uploaded a video that showed him dancing with a dancer to music.
However, in his upload, fans were taken by surprise and captivated by Jimin BTS's hair color change.
Also Read : Don't Give Support for Single 'You and Me,' Lisa and Jennie BLACKPINK's Close Relationship Raises Questions Among Netizens!
In the video, it was clearly visible that Jimin had changed his hair color from black to blonde.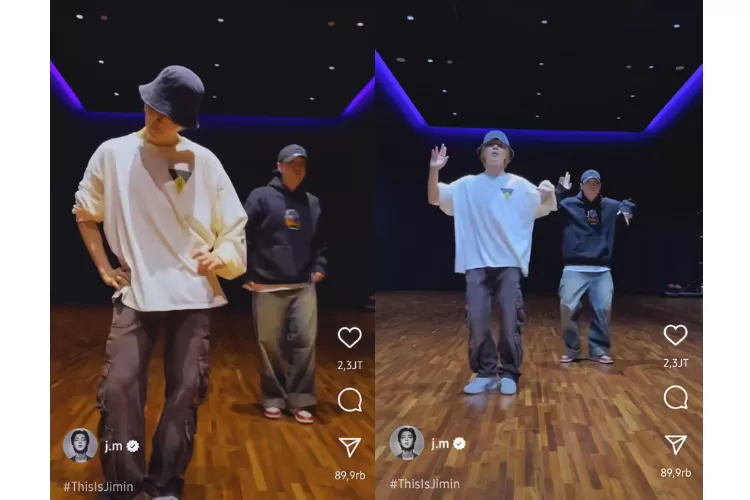 This change in hair color immediately reminded many fans of a time when Jimin had previously dyed his hair blonde.
Naturally, fans began to wonder if Jimin's hair color change signaled a new project. However, this remains speculative among fans.
For official news, we'll have to patiently await information from BTS's management agency, BIGHIT MUSIC.
Here are some comments from netizens:
"Wow, Jimin-shi really surprised us!"
Also Read :Korean Media Doubt Park Eun Bin Can Compete with Nam Goong Min in Castaway Diva
"The maknae line's moves are no joke."
"The maknae line is truly causing a lot of excitement."
"Get ready for Jimin's next big move."
"Wow, we miss Jimin even more now."
"Oh my god!!! I can't handle this, why first Taehyung, and now Jimin!! It's okay if it's one by one, but if they do it together, my heart might skip a beat."
"After the surprise of the new hair color, I'm afraid Jimin will suddenly go bald. No, Jiminie!"
"Jimin is back to being blonde."
"After Taehyung went blonde, now Jimin."
Also Read : Fix Held in Thailand! Knetz Criticize the Concert Location and Ticket Prices for the 33rd Seoul Music Awards!
"Jimin's blonde again? Is there something special coming up? He was blonde when he accompanied Jin for his military service; what was that for?! Even now, ARMY doesn't know."
"Oh my goodness, Jimin-shiii with blonde hair!!!", and various other comments.
In addition, it is known that Jimin will release a documentary video titled "Jimin's Production Diary."
"Jimin's Production Diary" will showcase the making of Jimin's solo album titled "FACE."
This documentary video is set to be released on October 23 on Weverse.