Beomgyu TXT – One of the members of the HYBE Labels umbrella group had to face various comments from netizens.
Diverse comments from netizens flooded Beomgyu TXT after the man wore controversial clothing.
Netizens noticed Beomgyu TXT's pants with the word 'Gay' written on them and mentioned that the pants looked bad.
Also Read : KNetz Disappointed After Seeing the 'Baddie' Concept Photos of IVE and Expressing Harsh Criticism
On October 14, 2023, a post was made on the popular Korean online forum, Nate Pann, titled "Controversy Over Beomgyu's Gay Pants TXT."
Specifically, this post contained a photo of Beomgyu wearing long pants with the words "How Smoking Paprika Turned Me Gay?"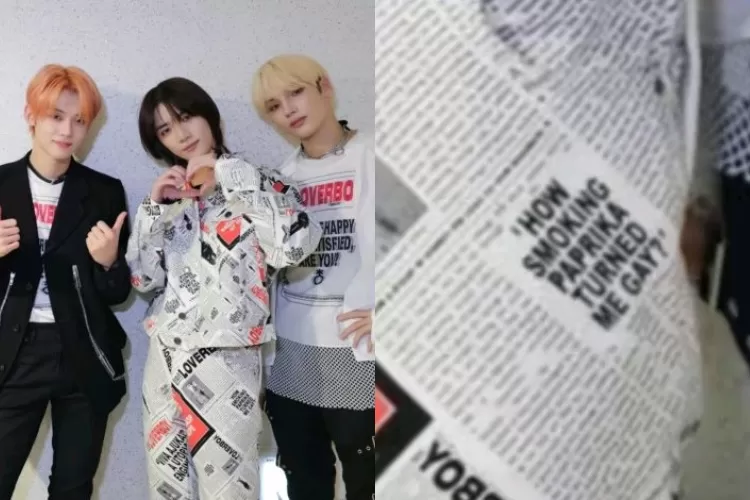 Beomgyu TXT choice of clothing that was questioned has sparked a lot of criticism against the idol.
Regarding the controversial clothing issue of Beomgyu TXT, netizens on Pann had various reactions.
Some netizens did not blame Beomgyu TXT at all, but they blamed the idol's stylist.
Some blamed other netizens for considering the clothing worn by Beomgyu as not controversial.
Also Read : KNetz comment on the nationality of the new girl group member from SM Entertainment
There were other netizens who said that the clothing worn by Beomgyu TXT looked bad.
"I thought he wouldn't wear it; it's the stylist who made it. It's not controversial; it's just people trying to make Beomgyu's clothes controversial."
"I don't know if this is about being gay or something, but what's up with that ugly clothing… Why are they always like this to Beomgyu?"
Also Read : Don't Give Support for Single 'You and Me,' Lisa and Jennie BLACKPINK's Close Relationship Raises Questions Among Netizens!
"Don't mention his name here and make it a controversy, blame the stylist."
"That's ugly… What kind of clothing is he wearing?"
As of October 15, the OP's post has been viewed about 39,000 times.