IVE released the "Baddie" concept photos on Monday, October 9th, at 11:00 PM KST.
Jang Wonyoung, Yujin, and other IVE members appeared different in the "Baddie" concept photos, sparking various reactions from KNetz.
After seeing IVE's "Baddie" concept photos, it appears that KNetz were disappointed and expressed criticism towards the photos of Jang Wonyoung, Yujin, and the other members.
In the concept photos, Yujin is seen riding a motorcycle with a bouquet of burning flowers.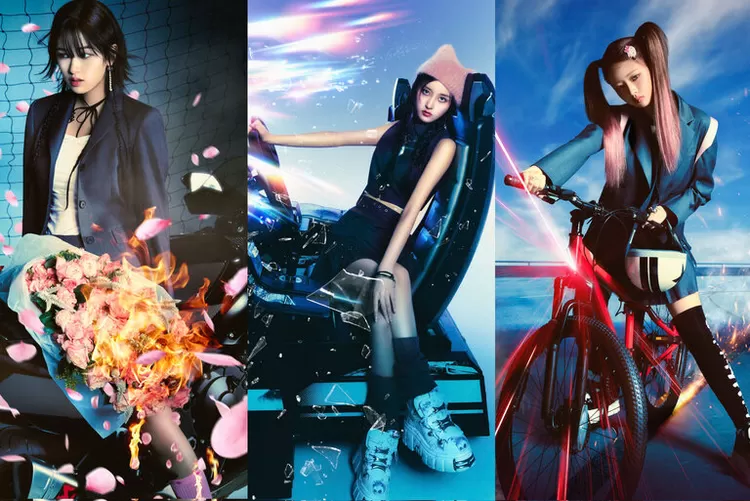 Also Read :JYP Entertainment Introduces the First 3 Members of the Japanese Girl Group NiziU Ahead of Their Debut
Next, Gaeul is sitting in a chair with a steering wheel in front of her, and Rei is riding a red bicycle.
Then there's Wonyoung, who is holding a drink with popcorn floating around her.
Liz is seen eating star-shaped red candy, and Leeseo is holding a game stick while wearing headphones.
KNetz deemed all the editing in the concept photos as unusual and overly excessive.
Here are various comments from KNetz regarding IVE's "Baddie" concept photos:
"For a moment, I thought that wasn't Jang Wonyoung. Why did they edit it like that?"
Also Read :Expression of Father Frederic Arnault in Responding to BLACKPINK Lisa's Fans' Cheers Becomes the Spotlight
"I was very curious about IVE's teaser photographer, so I searched for them on Instagram and saw that they really post their own AI-generated work."
"Maybe they're going for an AI vibe."
"Oh, it seems like I saw a post a while ago that said this song might be like aespa and NCT, haha."
"Starship seems a bit confused about IVE's concept this time; overall, it feels like a mix of various female idol images."
"If the intention was to create an AI-generated painting impression, it succeeded, but honestly, the photos are not very appealing, like something's off."
"The effects and corrections are really bad. What's that?"
"The corrections are a bit excessive; it would have been better if the size and shape of the glitter were varied. Everything looks the same, and there's too much light in Liz's eyes."
Also Read :Choi Hyun Wook and Shin Eun Soo's Lovestagram with Twinkling Watermelon Posts Delights Netizens.
"Seen like this, Gaeul and Leeseo look very similar."
"Wonyoung and Yujin look quite scary."
"I'm disappointed; in my opinion, it's not the best."
"They're pretty, but the editing is a bit overdone," and other comments.
Source: Theqoo, Twitter @IVEstarship