Winter  aespa once again became the center of attention after responding to her fan's protest messages, which seemed rude on Weverse. Her attitude became a topic of discussion among KNetz.
Winter aespa addressed a fan's protest message, which became the subject of conversation among KNetz.
Winter aespa responded to complaints and protest messages from one of her fans on Weverse after being repeatedly urged to post something on Bubble.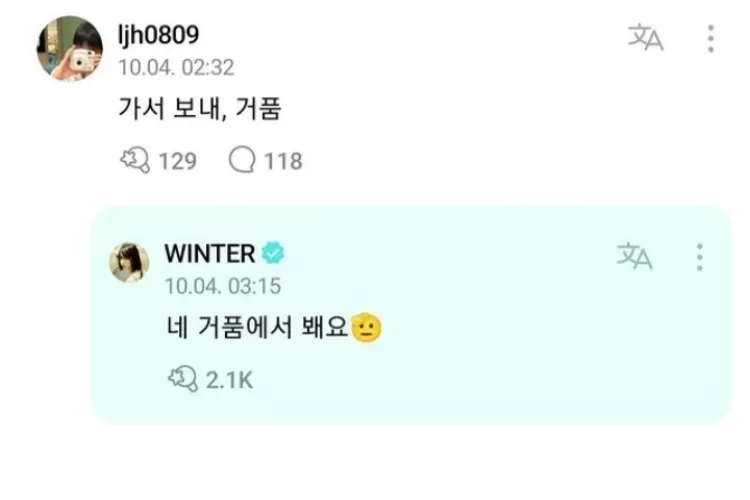 Also Read :Yoo Seung Ho Drama 'The Perfect Deal' Dominates Golden Week Holiday and Tops Prime Time Slot
One fan complained about Winter aespa's lack of updates on Bubble, stating that she rarely updated.
"Winter, send me a Bubble. I see you haven't sent a bubble in days. Go to Bubble and send a message, Winter," the fan wrote on Weverse.
The message written by her fan immediately caused a commotion, prompting Winter aespa to intervene.
She responded to the message with a polite and calm answer, impressing Korean netizens.
"Yes, see you on Bubble (accompanied by a salute emoji)," Winter aespa replied.
She demonstrated her polite and calm demeanor when dealing with her fan, who seemed rude.
Alos Read :KNetz Disappointed After Seeing the 'Baddie' Concept Photos of IVE and Expressing Harsh Criticism
Netizens praised her for handling the situation calmly and genuinely, despite her fan's demanding and impolite tone.
"She's cool. She's really smart."
"It's amazing how she doesn't get too emotional and responds sincerely to fan requests."
"Winter's response is so graceful. How do you handle negative things?"
"She handles it like a professional."
"Winter, stay cool, you're really smart."
"Even Winter, like Karina from aespa, updates Bubble frequently."
Also Read :JYP Entertainment Introduces the First 3 Members of the Japanese Girl Group NiziU Ahead of Their Debut
"She's so cool, unbothered queen, whether she's being rumored or facing protests from fans, she handles it really smartly. This girl is amazing."
Source: Instagram, Weverse