"Choi Hyun Wook and Shin Eun Soo Act Together in the Ongoing Drama 'Twinkling Watermelon'."
Choi Hyun Wook and Shin Eun Soo portray the teenage versions of Ryeoun's parents in 'Twinkling Watermelon.'
Choi Hyun Wook plays the role of young Ha Yi Chan, who is Ryeoun's father, while Shin Eun Soo portrays young Yoon Cheong Ah, Ryeoun's mother.
Being paired in the drama 'Twinkling Watermelon,' Choi Hyun Wook and Shin Eun Soo often share their moments together.
Also Read :Due to the cover by DO of EXO and Suhyun of AKMU, the song 'Rewrite the Stars' has entered the MelOn Top 100 chart and gone viral due to their exceptional vocals.
Their synchronized posts on Instagram have caused a stir among netizens, leading to speculations of a Lovestagram.
The posts shared by he and Shin Eun Soo on their respective Instagram accounts include photos taken on the set and promotional activities for the drama 'Twinkling Watermelon.'
They both posted the same photos on their Instagram accounts, resembling a couple deeply in love.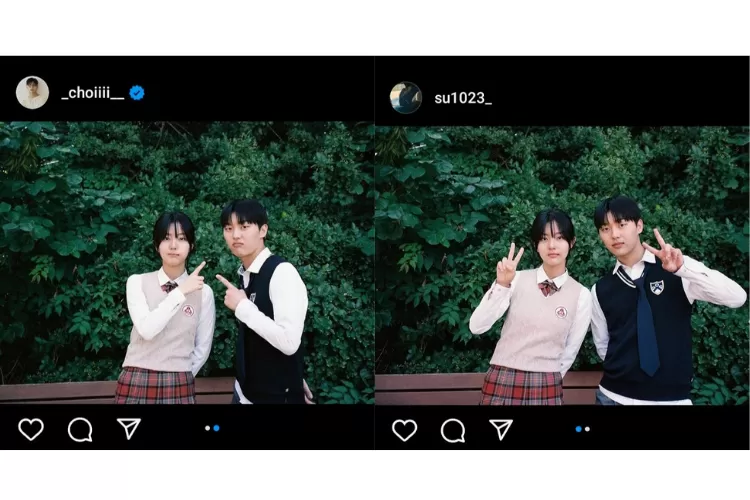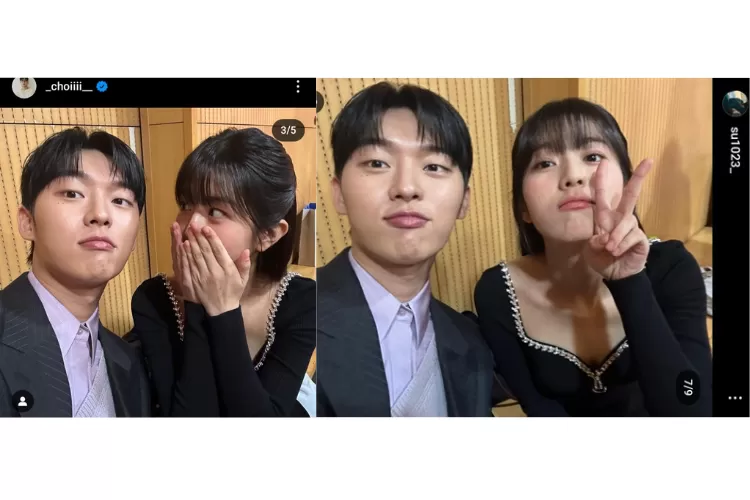 Here are some comments from netizens reacting to Choi Hyun Wook and Shin Eun Soo's Lovestagram posts:
"Seriously, can you guys please date? You two are so cute; I can't handle it, please, please, please."
Also Read :Acting alongside Song Hye Kyo and Kim Tae Hee in close proximity, Lim Ji Yeon in 'The Killing Vote: For Me, Actually
"They are so adorable together, on-screen or off-screen, their chemistry is perfect."
"I immediately stalked them and couldn't help but feel so giddy looking at them!! Plus, they're the same age!"
"It's okay to be this happy and cute, but it's giving the audience a rollercoaster ride."
"Young mom and young dad are sooo cute!"
"Oh my, is it allowed to be this cute, young mom and young dad?"
He and Shin Eun Soo are seen as having great chemistry, both in the drama and in real life. They are also known to be the same age, born in the year 2002, which further fuels the speculation and matchmaking by netizens.
Besides featuring he, Shin Eun Soo, and Ryeoun, 'Twinkling Watermelon' also stars other young actors like Seol In Ah, Bong Jae Hyun, and more.