TXT – Surprising netizens, TXT is going to make a cameo in the Shinchan cartoon, and Haechan from NCT and Karina from aespa are also being mentioned.
Netizens brought up Haechan from NCT and Karina from aespa after TXT was confirmed to make a cameo in the Shinchan cartoon.
Not only Haechan from NCT and Karina from aespa were mentioned by netizens following the announcement of TXT's cameo in Shinchan, but Junkyu from TREASURE was also brought into the conversation.
Also Read : TripleS Suspected of Plagiarizing IZ*ONE 'Fiesta' Song, Unexpected Incident Sparks Cynical Reactions from Korean Netizens!
On October 21, the Twitter account @crayon_official announced that TXT will appear in Crayon Shinchan.
This special episode of Crayon Shinchan with TXT will be broadcast next week, precisely on October 28.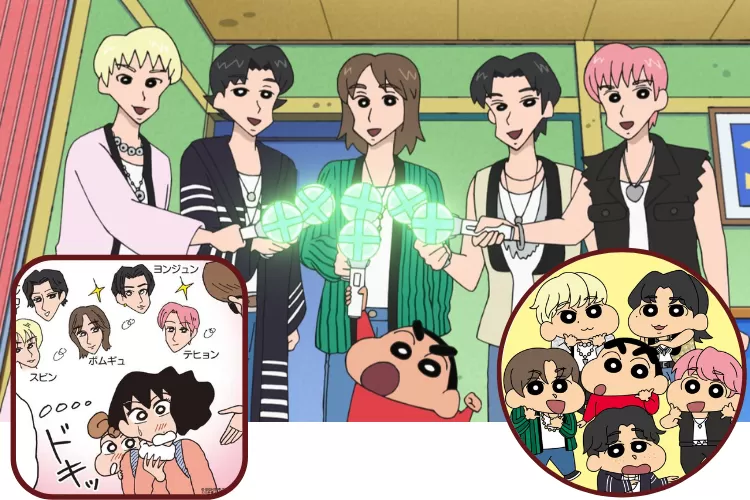 TXT and Shinchan will also take on the "Happy Fools" challenge in the episode.
Furthermore, all the TXT members will lend their voices to the cartoon.
A behind-the-scenes (BTS) show for this event will air the following month, on November 4.
After the announcement was posted, many fan accounts reposted it on their respective platforms.
Also Read : Choi Hyun Wook and Shin Eun Soo's Lovestagram with Twinkling Watermelon Posts Delights Netizens.
Upon learning of this, netizens immediately flooded the comments section.
Many netizens are excitedly anticipating the collaboration between TXT and Shinchan.
Some netizens also mentioned Karina from aespa, Haechan from NCT, and Junkyu from TREASURE.
This is because several of these idols are known to be fans of anime, including Shinchan.
On several occasions, Karina has mentioned Shinchan and knows when certain episodes are going to air.
Here are some netizen comments after learning that TXT will make a cameo in the Shinchan cartoon:
Also Read : Don't Give Support for Single 'You and Me,' Lisa and Jennie BLACKPINK's Close Relationship Raises Questions Among Netizens!
"Who would have thought TXT would meet Shinchan."
"It's not in vain that Soobin and Kai are anime enthusiasts."
"Haechan would definitely throw a tantrum if he found out."
"Haechan and Seunghan must be jealous seeing this."
"Haechan will definitely be jealous, hahahaha."
"Wow, this is so cool. These idols who love Shinchan, including Haechan, Junkyu, Karina."
"Junkyu, Haechan, Karina, Seunghan, they must be throwing a tantrum."
"Can't wait to hear TXT dubbing their own characters."
"Shinchan sugar rush rush sugar rush rush sugar rush rush," and various other comments.