Starring Cha Eun Woo of ASTRO and Park Gyu Young, the airing of "A Good Day To Be A Dog" has once again been postponed.
The drama "A Good Day To Be A Dog" has been criticized from the beginning, not because of Cha Eun Woo or Park Gyu Young but for other reasons.
"A Good Day To Be A Dog" is a drama about a single woman who teaches at Hae Na (Park Gyu Young) a high school and a man who is afraid of dogs, Jin Seo Won (Cha Eun Woo).
Also Read : Song Joong Ki Attitude Deemed Rude After Refusing to Mention His Child's Name to Fans, KNetz Divided!
Previously, in "A Good Day To Be A Dog," Han Hae Na began transforming into a dog every night after accidentally kissing her colleague Jin Seo Won. She attempted to kiss Jin Seo Won again to break the curse that afflicted her, but the challenge she faced was that Jin Seo Won did not like dogs.
In the fourth episode of "A Good Day To Be A Dog," Han Yoo Na (Ryu Abel) and Song Woo Taek (Cho Jin Se) sought the help of Choi Yool (Yoon Hyun Soo) to enter his house. Hae Na entered Seo Won's room with the intention of kissing and breaking the curse but got lost in thought when she saw him asleep, completely unaware of her plan. Her complex emotions were vividly apparent through her facial expressions as she gazed at Jin Seo Won.
Hae Na also summoned the courage to approach Jin Seo Won closely in an attempt to kiss him and return to her normal state.
Also Read : SM Entertainment is Again Rumored to Create a Name for a New Group, KNetz Provide Comments: Like a Joke…
The fourth episode of "A Good Day To Be A Dog" achieved a national average rating of 1.7 percent, marking a decrease from the previous episode's 1.9 percent.
Recently, on November 2nd, it was announced that the fifth episode of "A Good Day To Be A Dog" would be postponed for two weeks.
Episode five of "A Good Day To Be A Dog" will now air on November 15, 2023, as it has been replaced by a baseball program.
This delay led to comments and criticisms from viewers: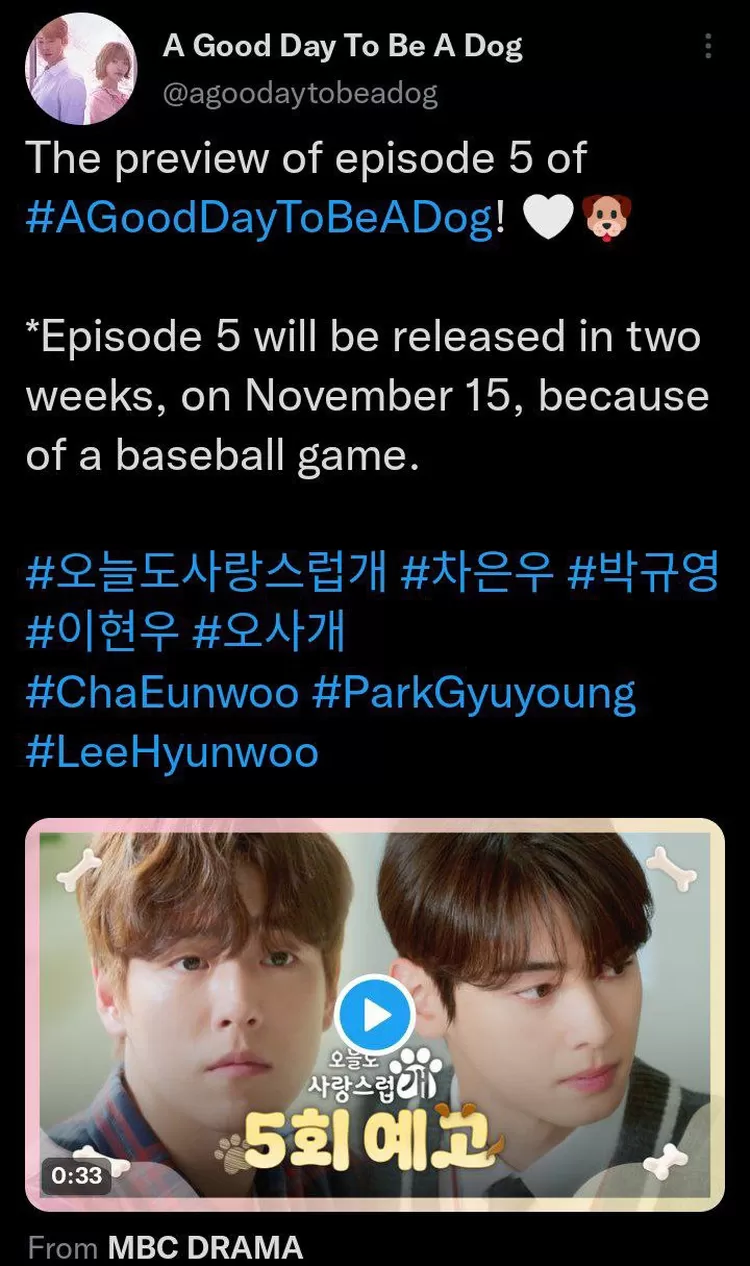 Also Read : Taken Up Close and Unedited, Jisoo BLACKPINK Skin Condition Captures KNetz's Attention.
"This drama is the number one least committed to airing."
"Always postponed."
"Why not just end it after the new year?"
"Fortunately, it hasn't continued yet, so I don't feel like it's left hanging."
"It's taking so long; I'll save the episodes for later, I don't want to watch and get curious."
"Last time, it was under the umbrella for two weeks, and now it's under the jacket for two weeks."
"Seriously, it's good, and it's getting more exciting, but MBC is a mess. How can the ratings not go down with such minimal promotion and erratic scheduling? I'm so frustrated; it's better to air it on an OTT platform. Geez!" and other comments.