Jungkook BTS – On Thursday, October 26, the BBMA's or Billboard Music Awards announced the nominations for the K-pop categories that caught the attention of KNetz.
The K-pop categories at the Billboard Music Awards consist of four categories: K-Pop Artist, K-Pop Song, K-Pop Album, and K-Pop Touring Artist.
In some of the K-pop nominations, Jungkook BTS received only one nomination for his debut solo song "SEVEN."
Also Read : Big Hit Speaks Out About Rumors of BTS Involvement in Drug Use Case, Knetz React This Way
KNetz were puzzled as to why Jungkook BTS did not receive a nomination in the K-pop artist category while Jimin did.
However, some KNetz were satisfied with the nominations.
Here are the nominations for the Billboard Music Awards in the K-pop categories: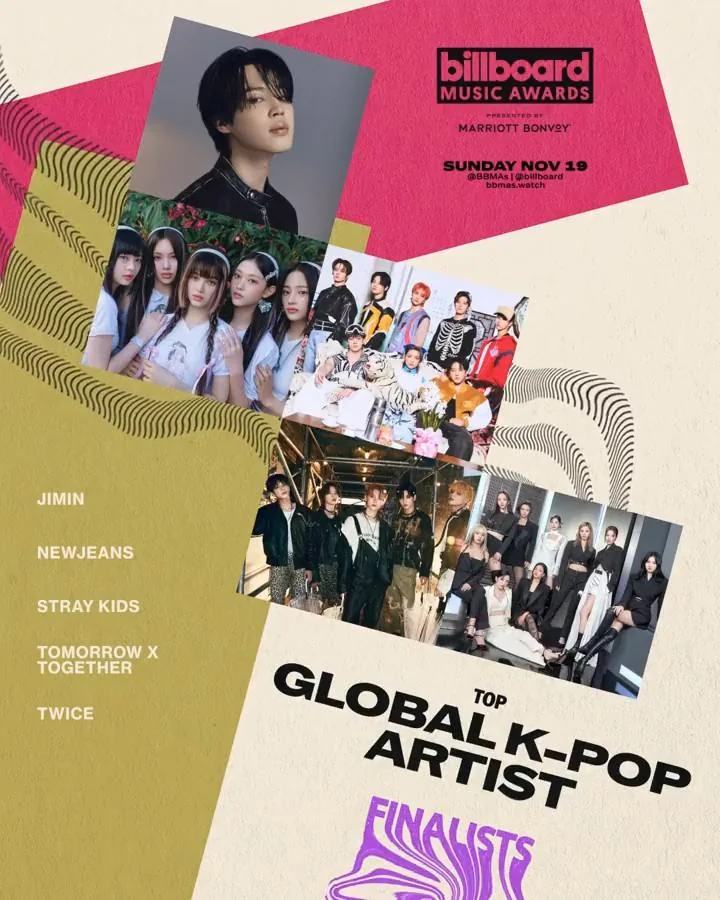 K-Pop Artist:
Jimin

NewJeans

Stray Kids

TXT

TWICE
K-Pop Song:
"Cupid – Fifty Fifty"

"Like Crazy – Jimin"

"Seven – Jungkook ft. Latto"

"Ditto – NewJeans"

"OMG – NewJeans"
Also Read : Don't Give Support for Single 'You and Me,' Lisa and Jennie BLACKPINK's Close Relationship Raises Questions Among Netizens!
K-Pop Album:
"Jimin FACE"

"NewJeans Get Up"

"Stray Kids 5-STAR"

"TXT The Name Chapter: TEMPTATION"

"TWICE READY TO BE"
K-Pop Touring Artist:
KNetz had various reactions and comments:
"But seriously, why is Jungkook not here?"
"Congratulations to all the nominees."
"I wonder how Billboard calculates their scores?"
Also Read : KNetz comment on the nationality of the new girl group member from SM Entertainment
"They even released nominations for collaboration songs, and Jungkook is still not there."
"JYP idols, let's go."
"The fact that K-pop has its own categories means that K-pop is now more than just a sub-minor genre, haha."
"Jungkook not being nominated as an artist? Quite interesting."
"So, Jimin sold more than Jungkook as a soloist? Oh, that's unexpected. Congratulations to Jimin."
"Why are people making a fuss about Jungkook?"
"This is frustrating," and other comments.