The Billboard Music Awards announced their nominations and categories, including a special K-pop category on October 26th, which garnered various reactions from netizens.
Netizens commented on this special K-pop category as a new addition to the Billboard Music Awards starting in 2023.
The special K-pop category at the Billboard Music Awards became a hot topic among netizens.
Several specific K-pop categories were added by the Billboard Music Awards, including KPop Touring Artist and Top Kpop Album.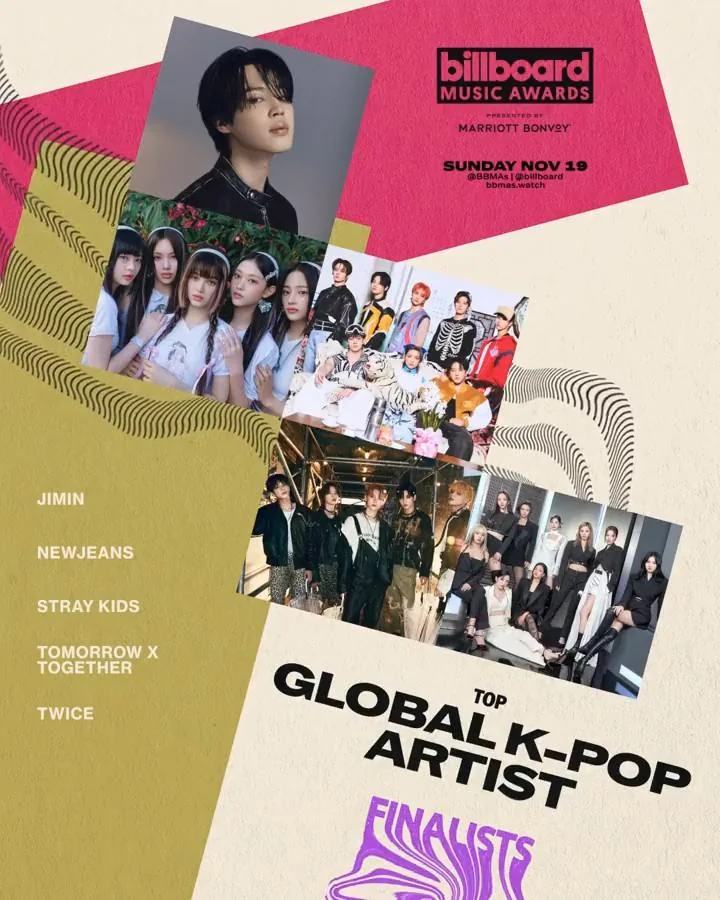 Also Read : G-Dragon Faces More Criticism After Speaking Up About Drug Use Allegations, Netizens Say: Prove It with a Drug Test…
This sparked discussions and debates among many netizens.
Netizens also reminisced about a time when BTS used to compete with international artists without a separate K-pop category.
According to some netizens, the inclusion of a K-pop category in the Billboard Music Awards actually diminishes the quality of the awards.
Netizens also believed that with the introduction of a K-pop category, the Billboard Music Awards are no different from music awards in Korea.
Also Read : The songs "Baddie," "Off the Record," and "Either Way" by IVE are compared again: Still haven't entered my ears…
Furthermore, netizens believed that the Billboard Music Awards added the K-pop category solely for popularity and that the added categories seemed forced and contrived in their opinion. Many netizens then voiced their protests and criticisms against the award show.
Netizens also believed that the addition of the K-pop category was thanks to BTS, who paved the way for other K-pop artists at the Billboard Music Awards.
Here are some netizen comments after seeing the Billboard Music Awards add a special K-pop category this year:
"It's so weird, it feels forced… there's a KPop song, artist, touring, and old albums, it's like an award show in Korea."
"Seriously, BBMA is just trying to seek popularity, that's why I'm getting a bit tired of this award."
"Is this a K-pop award?"
Also Read : TripleS Suspected of Plagiarizing IZ*ONE 'Fiesta' Song, Unexpected Incident Sparks Cynical Reactions from Korean Netizens!
"Because of who? Because of BTS, it feels like an Inkigayo show."
"I thought BBMAs would be better compared to MTV's original awards, but apparently, it's the same, including the KPop nominations."
"Last year, BTS could get nominated without the K-pop label, and some even won."
"In this case, what's the difference from MAMA, MMA, GDA, and other Korean awards? The only difference is that the organizers are from America."
"Western awards aren't cool anymore; it's all about K-pop," and various other comments.