Jungkook of BTS has officially begun his solo debut with the release of the album GOLDEN, which was released today on Friday, November 3.
As expected from Jungkook of BTS, the release of GOLDEN has garnered a lot of attention and become a topic of public discussion.
In addition to highlighting the songs, concept, and achievements on the first day of GOLDEN's release, netizens have also taken note of the words of thanks or "Thanks To" in the album, specifically dedicated to fans and those who have supported him thus far.
Also Read : Drug Case Involving G-Dragon Drags BTS and Kim Chaewon into the Spotlight, Police Provide Further Updates!
In his words of thanks, the youngest member of BTS mentions that there wasn't a clear plan for this album initially. However, everything started to change and become a reality after Jungkook successfully released his first single titled "SEVEN."
The Busan-born artist admits that he is someone who acts on intuition, so he never dwells deeply on what's better or worse. Once again, Jungkook explains that after starting his solo activities, everything began to appear clear and exciting, even though he acknowledges that there is still much he doesn't know.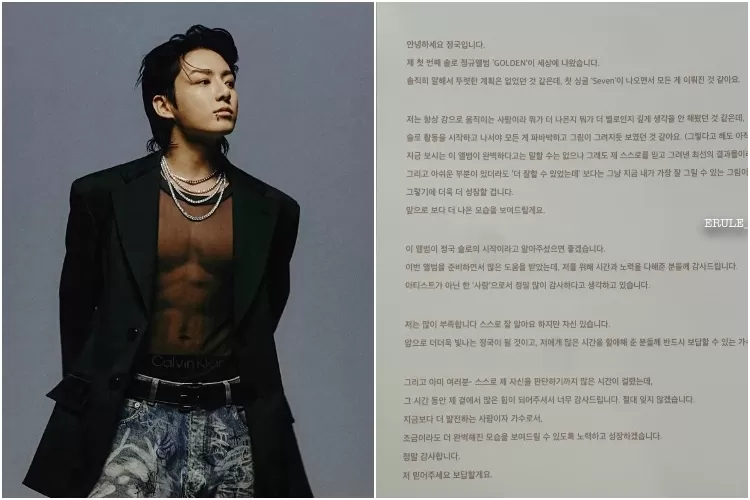 Jungkook also fully realizes that his album GOLDEN cannot be seen as perfect, but to him, it's the best result of his belief in himself. He writes, "And even if there are some disappointing parts, rather than thinking 'I could have done better,' I just think that it's the best portrayal I can create at the moment, and that's why I will continue to grow further."
Also Read : Jeon Somin Departure From Running Man vs Kian84 Marathon Controversy, These Are the Hottest Topics in South Korea Right Now!
In his writing, Jungkook also hopes that people understand that this album marks the beginning of his new solo career journey. He acknowledges that the release of this album is due to the support of various parties during its preparation.
Therefore, with all humility, the 26-year-old wishes to express his gratitude to those who have dedicated their time and energy to him. "As an individual, not just an artist, I am deeply grateful," Jungkook writes with a sense of thankfulness.
On this occasion, Jungkook also admits that as an individual, he still has many shortcomings but knows himself well. Despite having many flaws, Jungkook has the confidence that he can shine brighter in the future. He promises to be a singer who will undoubtedly repay those who have dedicated much time to him.
To the BTS fans, known as ARMY, Jungkook also includes special, brief yet meaningful words. "Thank you very much for being by my side and giving me strength all this time. I will never forget it. As an individual and a singer who will grow further from now on.
Also Read :  Yeri of Red Velvet Expresses Disappointment Towards SM Entertainment Regarding the Teaser Album 'Chill Kill' Photo Quality!
I will work hard and develop so that I can show a more perfect version of myself. Thank you. Please believe in me; I will repay it to you," says Jungkook.
On the other hand, the message from Jungkook album has touched netizens and especially fans with his acknowledgments, expressions of gratitude, and promises. Some netizens even openly admitted that they cried while reading Jungkook words of thanks.
Here are some netizen comments on his message:
Also Read : LESSERAFIM Source Music Agency Speaks Out About Rumors of Kim Chaewon Involvement in Lee Sun Kyun's Drug Case
"Why am I crying huhu"
"There's so much I want to say, but I can't put it into words. I love you, Jungkook."
"Our maknae has truly grown up. He's matured."
"From his writing, I can feel that he is a very pure and sincere person."
"They always say they're not good enough. They say they will always do better. They truly do better than they deserve and love them very much huhuhu."
"It seems everything is reflected in Jungkook's usual way of speaking, huhu."
"Our Jungkook is so sad, huhu."
Also Read : The Solo Debut Schedule Has Been Released! Bang Yedam Prepares a Mini Album Titled 'ONLY ONE'
"You speak so plainly; I can feel Jungkook's sincerity."
"Sincerity conveyed in a very simple way, huhu. I will just give you love from Jeonggu; I love you."