On October 30th, former TREASURE member Bang Yedam announced the release date of his solo debut and the upcoming launch of his first mini album.
Two days later, on November 1st, through his X (Twitter) account @_YEDAM_OFFICIAL, Bang Yedam shared the schedule for the release of his first solo mini album, starting from concept photos to the release of the music video.
For his solo debut, Bang Yedam is set to release his first mini album titled "ONLY ONE."
Also Read : YG Entertainment Claims Trademark 'G-Dragon' – Can GD No Longer Use It?
Alongside his solo debut, the mini album "ONLY ONE" is scheduled to be released on November 23rd.
Here is the poster of his solo debut schedule for the release of his first mini album: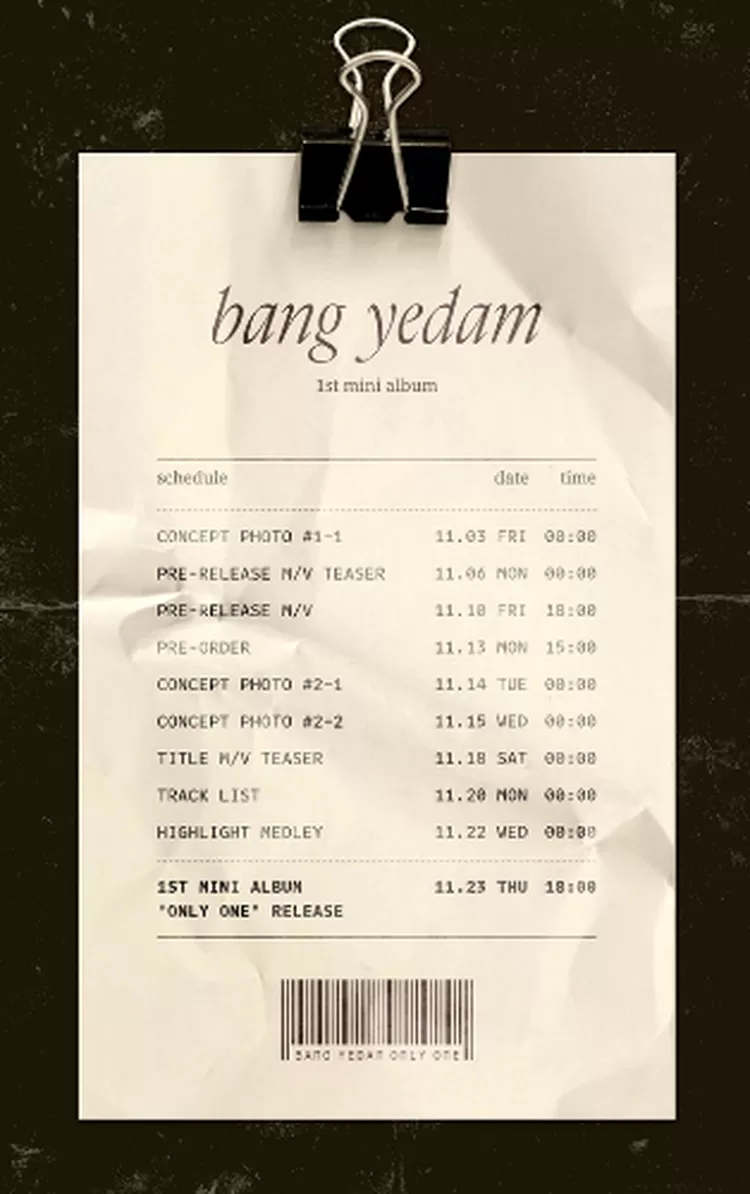 The sudden announcement of Yedam solo debut took everyone by surprise and quickly became a topic of discussion.
Many of his fans are eagerly anticipating the release of the mini album "ONLY ONE." The enthusiasm of the fans can be seen in the following comments:
"I can't wait for the album to be released!"
Also Read : BABYMONSTER Gears Up for a Spectacular Debut in November 2023
"Omo, you got this, Bang Yedam!"
"I'm in shock! But I'm happy to receive this announcement from Yedam!"
"After waiting for so long, I can finally hear Yedam's singing again."
"Go, Yedam!"
"I'm so excited for 'ONLY ONE' to be released, Bang Yedam!"
"I'm very emotional right now, Yedam. I'm happy to see you grow and fulfill your dreams."
Also Read : Latest Status of BLACKPINK Contract Ready to Be Revealed! Predicted to Be Released by YG Entertainment in 3 Weeks
"Will there be a physical album? I will definitely buy it if there is. I can't miss his solo debut," and various other excited comments.
There is still no information available regarding the release of the physical album for "ONLY ONE."
Additionally, Bang Yedam has created an official account, @_yedam_official, for updating his official activities in the K-Pop industry.