Actor Lee Seo Jin Signs Exclusive Contract with Antenna Music.
On November 1st, Antenna announced that they have signed an exclusive contract with actor Lee Seo Jin.
"We have recently signed an exclusive contract with Lee Seo Jin, who is active in the acting and entertainment industry," stated Antenna.
Also Read: The Solo Debut Schedule Has Been Released! Bang Yedam Prepares a Mini Album Titled 'ONLY ONE'
They added, "We will support Lee Seo Jin so that he can be active in various fields. Please show a lot of support for Lee Seo Jin as he embarks on a new beginning."
Previously, Lee Seo Jin was under the management of Hook Entertainment and had been working with them for 13 years.
Lee Seo Jin then announced the termination of his contract with Hook Entertainment in September.
Actor Lee Seo Jin gained attention for his appearances on programs like "Three Meals a Day," "Grandpas Over Flowers," "Little Forest," "Youn's Kitchen," "Youn's Stay," "Jinny's Kitchen," and many more.
These programs were created by PD Na Young Seok.
Also Read: American Media Calls K-Pop Stocks Plunge Due to D.O of EXO Leaving SM
In addition, Lee Seo Jin is an actor who made his acting debut in 1999 in the drama "House on the Wave."
Afterward, he became active in various dramas such as "Damo," "Possessed," "Marriage Contract," and "Dr. Park's Clinic."
There have been various speculations surrounding his contract signing with Antenna.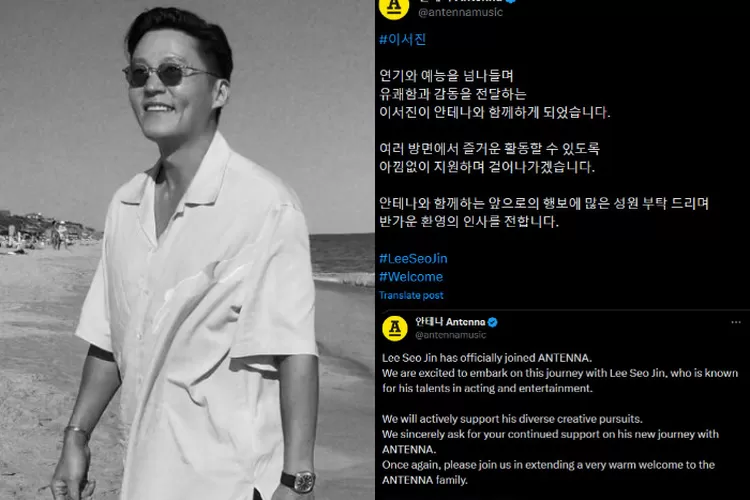 Some say that Lee Seo Jin will sign a contract with the company where he will focus on his work. However, his announcement of the contract with Antenna has garnered surprising reactions.
On the other hand, Antenna has been showing its strength after recently recruiting some big-name artists.
Antenna, which recently brought on Kyu Hyun, Yoo Jae Suk, Lee Hyori, Lee Sang Soon, and other artists active in the entertainment industry.
Also Read: Korean Politician Bans Celebrities Involved in Drug Cases from Appearing on TV
Many believe that Lee Seo Jin will be a good fit for Antenna because of his friendly image.
Antenna is a company founded by Yoo Hee Yeol and has several singers and artists.
Some of them include Yoo Jae Suk, Lee Hyo Ri, Lee Sang Soon, Kyu Hyun, Mi Joo, Sam Kim, Kwon Jin Ah, Jung Seung Hwan, Papertones, and many more.