Recently, one of the members of Red Velvet, Yeri, expressed her dissatisfaction with SM Entertainment, the managing company of the group, regarding the quality of the teaser images for their upcoming album "Chill Kill."
The discussion took place when Yeri asked fans for their opinions on the teasers released the day before. Although fans were very excited, they shared a common complaint about the very low image quality.
Addressing this issue, Yeri expressed her disappointment with the low-resolution uploads. Demonstrating a proactive approach, Yeri requested higher-resolution images and shared them on her personal Instagram account.
Also Read : BLACKPINK Becomes the First Group Whose All Members Have 10 Million Monthly Listeners!
This made her Instagram the only platform with high-definition teaser photos. Her frustration was evident as she discussed this ironic situation with fans on the Bubble platform.
"The quality… I'm also wondering why everything comes out in low resolution… I asked for them in high quality. And I uploaded them a day later. So, now it's an ironic situation where only my Instagram has (high-quality teaser photos)," Yeri wrote on Bubble.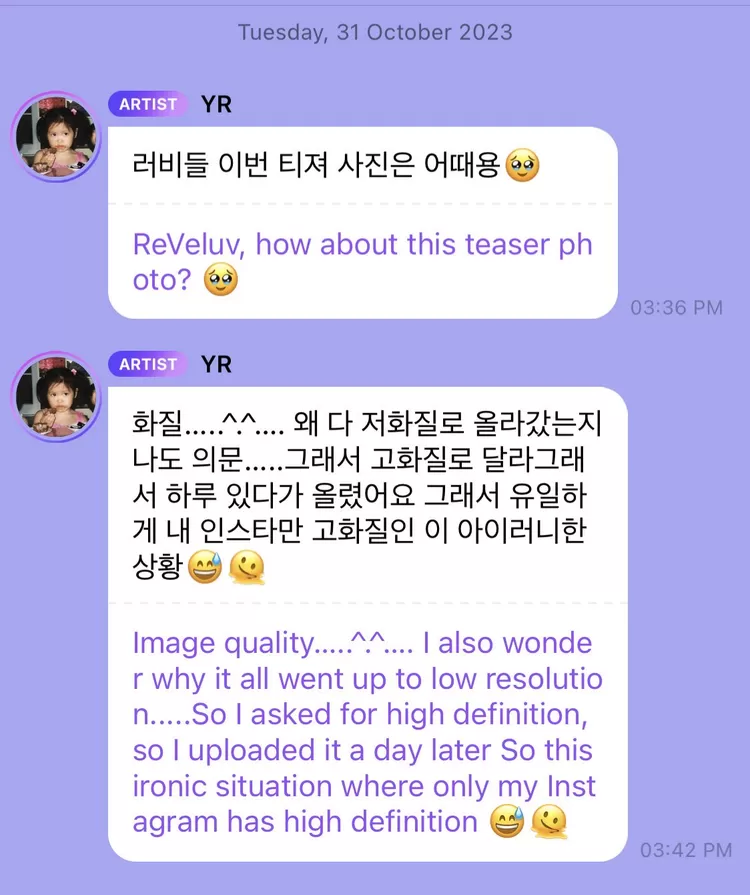 Despite the complexity and her frustration with SM Entertainment oversight and social media team, Yeri went the extra mile to deliver 20 teaser images to her fans via Bubble.
Also Read : The insiders ensure that Ahyeon will debut with BABYMONSTER in November
"Oh my goodness… haha. I'm so angry… forgive me, Reveluv," Yeri's message on Bubble read. The intricate platform process required her to confirm three times for each photo sent, meaning Yeri had to confirm 60 times to share all the teaser images. Despite being time-consuming, Yeri continued to do it to make her Reveluv fans happy.
Yeri ended her conversation with warm wishes, praying for beautiful days for her fans and expressing her enthusiasm for the upcoming days in November.
Yeri's actions provide a clear insight into an artist who is dedicated to giving her best to her fans, despite obstacles caused by her managing company, SM Entertainment.
Also Read : V BTS Makes a Mistake! But This Brand Is the One Responsible
This incident has sparked a wave of support for Yeri across social media platforms, and fans have praised her mature attitude.
In contrast, SM Entertainment has faced criticism for its oversight in ensuring that the teasers reflect the high-quality images that fans deserve.