Recently, an OP made a post on a local Korean online forum with the title "I feel ashamed because Jungkook fans are showing off his achievements."
The OP criticized Jungkook's fans for considering Taylor Swift as his rival in the US market for this comeback.
They mentioned that on November 5, Taylor Swift claimed positions 1 and 2 on the Spotify Daily Chart (US), while Jungkook from BTS appeared at positions 20 and 32.
Also Read : This is the Complete Scenario of Lisa Leaving BLACKPINK to Entering China's Blacklist, the Good Side is in This!
The OP added that ARMY (BTS fanbase) should not label Taylor Swift as Jungkook rival.
There were even comments suggesting that Taylor Swift should be afraid of Jungkook.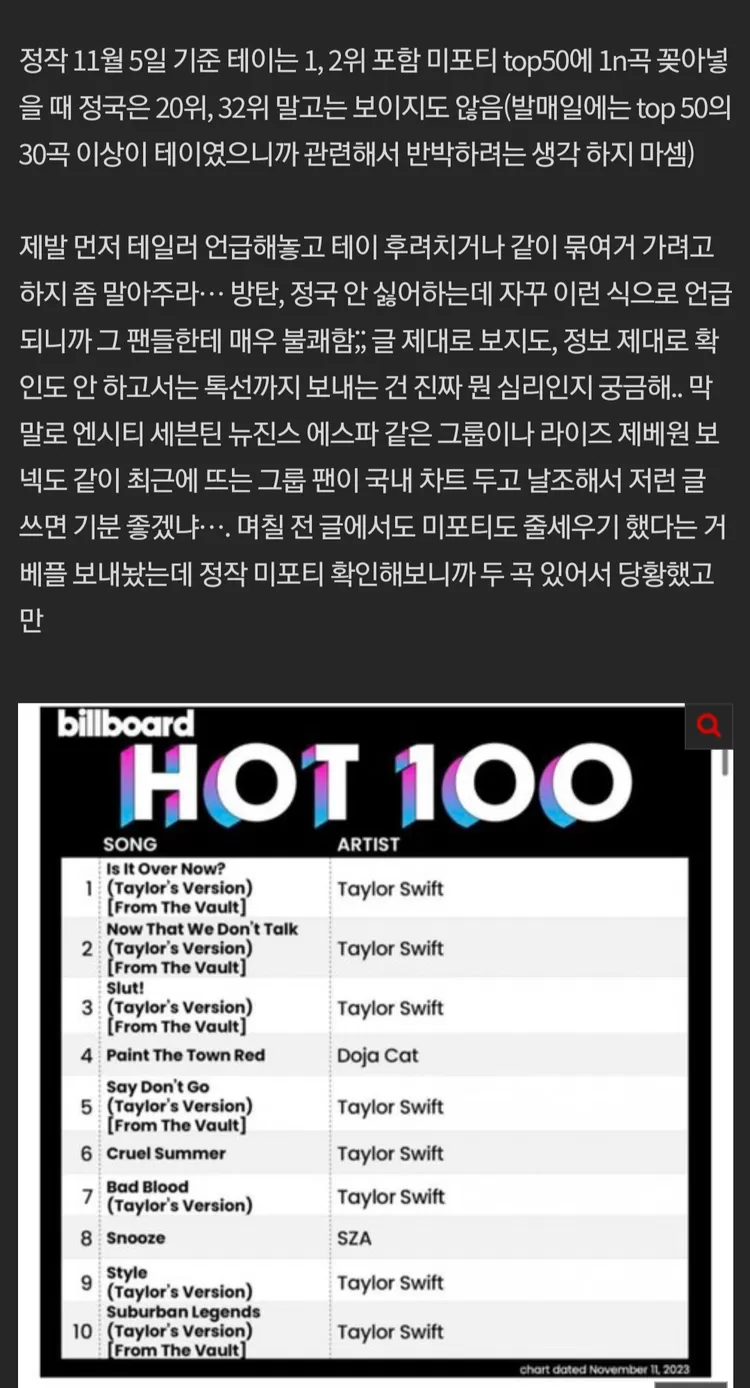 The OP's post garnered various reactions from Knetz (Korean netizens) and immediately flooded the comment section.
Interestingly, the OP faced criticism from Knetz, with many speculating that the OP was pretending to be a Taylor Swift fan to criticize ARMY.
Also Read : Kim Min Kyu Produce X 101 is reported to join Suho EXO, starring in 'The Crown Prince Has Disappeared'
Here are some Knetz comments responding to the OP's post that cautioned ARMY:
"Seriously, what are you trying to achieve with this post?"
"I'm surprised that you're a Taylor fan. Why are you so insecure when you're a Taylor fan? Taylor is amazing, you know, and we know it well. So fans like it because Jungkook's solo album is doing well, but our respect for Taylor hasn't changed. Currently, many posts and comments are made on Pann about Taylor Swift to Jungkook, so ARMY won't be fooled. Don't be deceived."
"He's cosplaying as a Taylor Swift fan, right? He's been building it up for a few days to bring Jungkook down, and after writing the previous post, the reaction wasn't good, so he quickly took a screenshot at 3 am and posted another one. Pathetic. Quickly delete this."
Also Read : My Dearest Announces Episode Extension with Review Results: Decision Has Been Made to Portray…
"No matter how great Messi is, Son Heung Min is the best for his fans. No matter how famous Taylor Swift is, Jungkook is the best for me! I'm not interested in foreign female singers."
"Criticizing someone who gets good grades is due to jealousy and low self-esteem."
"Does the psychology of Koreans not want to see Korean singers succeed? Are they of Korean ethnicity?"
"I don't know Jungkook's value, but I know it after reading this post haha. He's very influential."
"I'm so ashamed that Koreans can't even say that Korean singers have good value."
"ARMY is special, just let it be."
"Looking at Jungkook fans, they are similar to Lisa's fans. When Lisa Solo and Lalisa came out, Thai kids made promises and said that BTS and IU would win, and it still feels like that."