G-Dragon – The case of G-Dragon's involvement is heating up as several pieces of evidence have been revealed.
G-Dragon's connection to the drug case, following popular actor Lee Sun Kyun's arrest for using illegal substances.
Eventually, he found himself on the list of celebrities being investigated in connection to the drug case.
Also Read : Also From Thailand, Knetz Acknowledge Fatigue With the Title 'Second Lisa' for Pharita of BABYMONSTER: They Are Different!
Recently, the news of G-Dragon's involvement in the drug case with Lee Sun Kyun has left his fans worried.
This revelation has shocked the media, as G-Dragon has been making frequent appearances on various shows and even announced the upcoming release of a new album.
He is being investigated without any detention for the alleged violation of drug abuse laws.
Nevertheless, some media and netizens have found suspicious behavior from G-Dragon dating back to 2020 before the drug case investigation.
Upon hearing that their idol is involved in a drug case with Lee Sun Kyun, fans of BIGBANG (VIPs) have come together to show their support for him.
Also Read : FIFTY FIFTY Files Lawsuit Against ATTRAKT but Court Rejects It, KNetz: Will They Come Back?
Fans of G-Dragon have started trending hashtags such as 'STAY STRONG G-DRAGON' and #WeStandWithGDRAGON, #항상_지드래곤의_곁에_있습니다.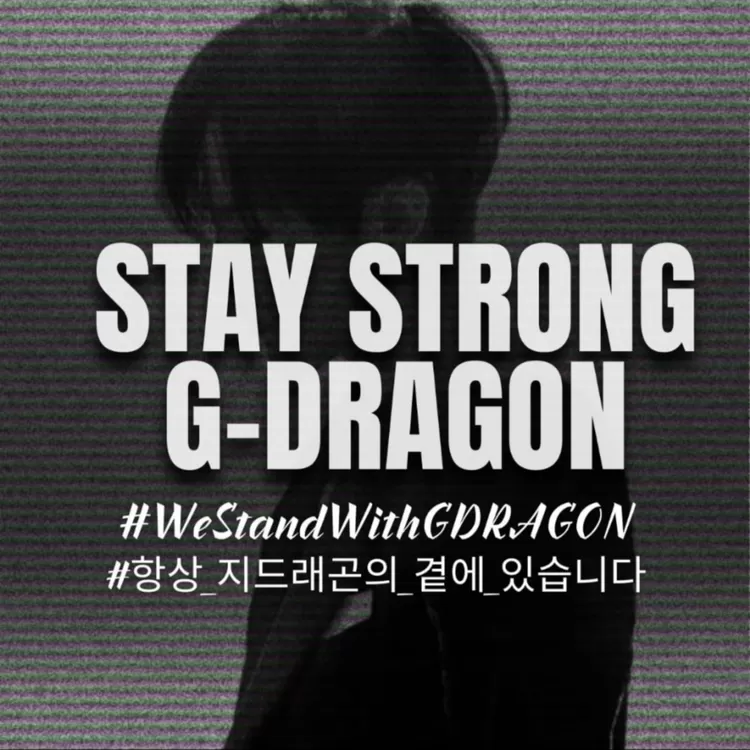 Due to the overwhelming support from his fans, G-Dragon is believed to have noticed what his fans are doing for him.
He has been seen liking posts from international fans who are using these hashtags to show their support.
G-Dragon's fans are confident that their idol will overcome this challenge and soon return to fulfill his promise of releasing a new album.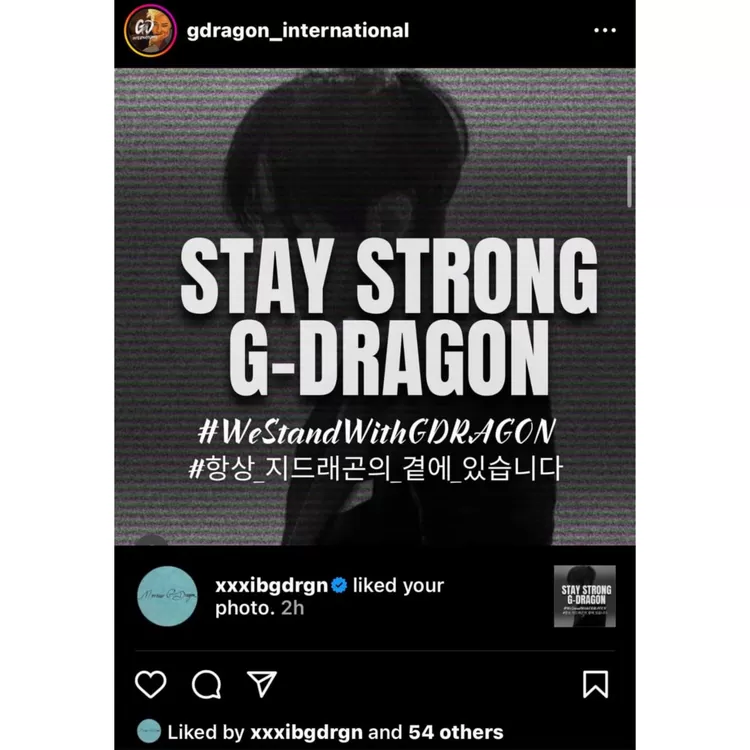 The support from VIPs for her has caught the attention of netizens, and they have left various comments, such as:
"Wow, his fans are incredibly loyal; usually, many would have left and moved on to other biases."
"I didn't expect this level of support for G-Dragon."
Also Read : Jisoo BLACKPINK Acting Highlighted After Being Reported to Star in New Movie Alongside Lee Min Ho, KNetz: Her Acting…
"No need for support; it's about time G-Dragon faced the consequences, not like Seungri."
"I believe G-Dragon can get through this; look at how loyal his fans are."
"Let's wait and see how G-Dragon's case unfolds."
"Everyone is cheering for G-Dragon; I can't believe VIPs are like this."
"Why wasn't Seungri like this back then?"
"The atmosphere is very different from Seungri's case; he is lucky to have such loyal fans."