Recently, a video of G Dragon from BIGBANG has caused quite a stir among netizens. The video, uploaded by a netizen on social media, shows that G Dragon from BIGBANG has never engaged in any unusual behavior related to drug use.
This perspective was supported by other netizens who claimed that the video of G Dragon from BIGBANG had been edited to make it appear as though he was using drugs.
When G Dragon denied the drug accusations, netizens found the complete version of the clip that exhibited symptoms of drug addiction.
Also Read : Choi Hyun Wook and Shin Eun Soo's Lovestagram with Twinkling Watermelon Posts Delights Netizens.
On October 31, 2023, a netizen shared a video on an online community with the title "Discovering the original G Dragon clip that debunks the allegations." Previously, when the drug case was spreading, netizens rapidly shared this clip on social media, increasing suspicion of drug addiction symptoms and referring to G Dragon as "zombie GD."
The short clip showed a moment when G Dragon was spinning and his neck appeared to break as he entered a store. However, the longer video showed G Dragon walking and greeting foreign fans normally before entering the store without any unusual behavior. He then stretched his neck as he passed through the entrance.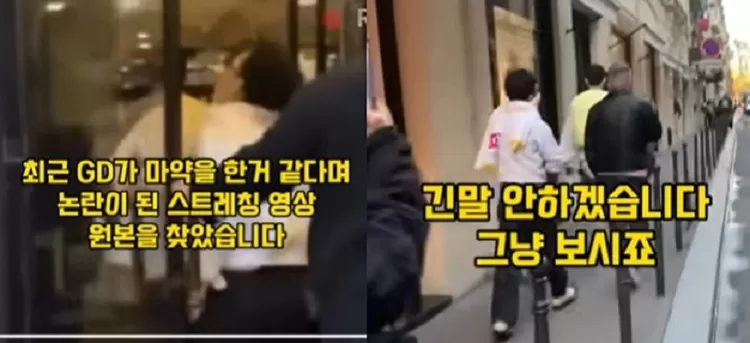 In the complete video, the performer of "BANG BANG BANG" did not display any signs of drug addiction and only performed some simple stretches.
Also Read : TripleS Suspected of Plagiarizing IZ*ONE 'Fiesta' Song, Unexpected Incident Sparks Cynical Reactions from Korean Netizens!
The netizen who released the original video argued that there was nothing wrong with G Dragon's actions at that time because he had been seen multiple times engaging in similar stretching behavior in front of fans and reporters.
In response to the video, fans reacted with comments like, "Were people fooled by the edited clip?" and "GD is often seen doing those stretches."
"If you're a fan, you should know it well," and "Most of the videos have been edited maliciously," some added. On the other hand, many other netizens commented, "The truth will soon come out, let's wait and see."
Also Read : Jisoo of BLACKPINK has broken up, and netizens believe she can't date anyone, including Ahn Bo Hyun
Meanwhile, the police charged G Dragon with violating the Drug Control Act on October 25. The police found evidence of G Dragon's drug use during an investigation at an entertainment venue in Gangnam, Seoul, last month.
However, G Dragon strongly denied the drug accusations and expressed his intention to voluntarily attend the police investigation scheduled for November 6, 2023.