Lisa BLACKPINK appearance at Crazy Horse Paris may have concluded long ago, but it seems that the aftermath of her performance is far from over.
In the ensuing period, Lisa BLACKPINK continued to face criticism from Chinese netizens, leading to the deletion of her Weibo account.
The repercussions of Lisa performance at Crazy Horse Paris extended to luxury brands CELINE and BVLGARI, as they took action to remove photos of the BLACKPINK member from their social media accounts.
Also Read :Castaway Diva and Vigilante Allegedly Garner Attention as Disney and Netflix Suspected to Support Israel
This sparked various speculations among BLINKs and netizens, suggesting that Lisa, known as the global ambassador for BVLGARI and CELINE, might terminate her contracts with these luxury brands.
Surprisingly, the CEO of BVLGARI added fuel to the fire by suddenly posting several photos of Lisa BLACKPINK on their social media accounts, seemingly reassuring BLINKs and the public of their support for her.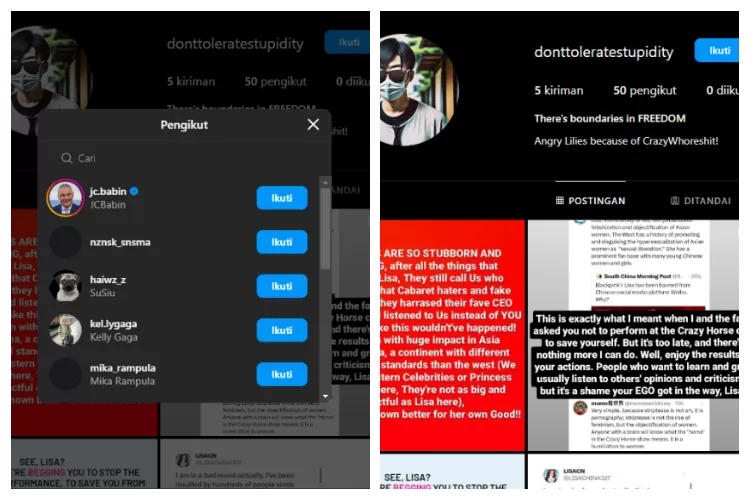 However, a contradictory aspect of the CEO's stance towards Lisa BLACKPINK surfaced, with BLINKs discovering that the CEO of BVLGARI was following an anti-Lisa account. This revelation further fueled the anger of BLINKs, with the account in question having 50 followers, one of whom is the CEO of BVLGARI!
Also Read : G-Dragon Response is Considered Brilliant Regarding The Police Investigation That Doesn't Make Sense
As a result, the CEO of BVLGARI's actions were deemed confusing and received various criticisms on social media. Even BLACKPINK fans commented on the CEO's behavior, expressing their impression of it being unprofessional.
Some argued that BVLGARI should show more respect to Lisa as long as she remains their ambassador. On the other hand, many speculated that Lisa might no longer be favored by the CEO of BVLGARI due to the impact of her performance at Crazy Horse Paris.
Here are some netizen comments in response to the CEO of BVLGARI following an anti-Lisa account:
"Omg, is this real? Why is he following it? Is Babin setting him up or…"
"Oh my god, it's real!"
Also Read : King Of Fashion! G-Dragon Glasses, Worn During Police Investigation, Sold Out Immediately
"Chinese customers and the Chinese government are one word. No celebrity can be bigger than Chinese customers; China is one of the top luxury customers. Even Angela Baby was canceled on Weibo because of rumors that she was there."
"He's too real for that."
"Obsession."
"A toxic person 24/7 will continue to spread anything to fill their troubled heart. Happy to see how Mr. Babin cruelly hates people who insult LISA and protects her like a good father.
In the end, LISA is surrounded by genuine people while others are still suffering without a purpose in life."