YG Entertainment is actively promoting to welcome the upcoming debut of their new group, BABYMONSTER.
The group consists of seven members: Ahyeon, Pharita, Chiquita, Rora, Asa, Haram, and Ruka.
BABYMONSTER is expected to be the next phenomenal artist under YG Entertainment.
Also Read : As the debut approaches, BABYMONSTER will debut without Ahyeon, according to YG Entertainment!
Their debut has been carefully prepared with great anticipation, aiming to make history on the release day.
However, amidst their debut schedule, local media reported that one of the BABYMONSTER members, Ahyeon, has resigned.
Ahyeon, a member of YG Entertainment's new debut girl group, BABYMONSTER, left the group for personal reasons.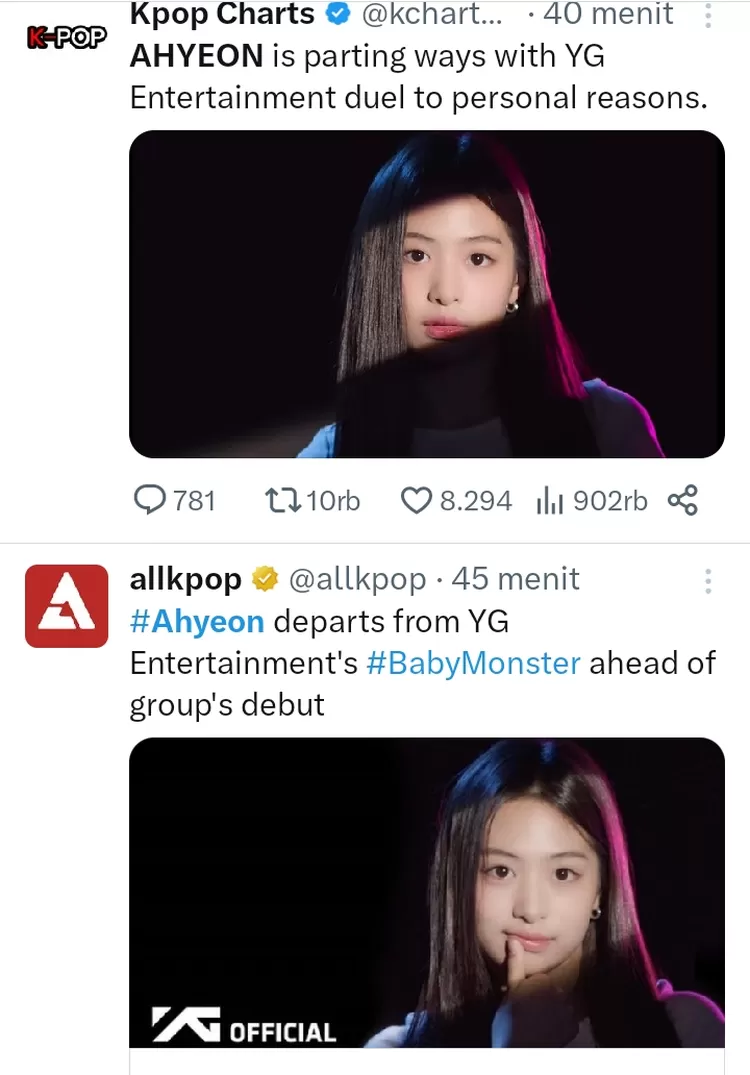 On Wednesday, November 15, 2023, it was announced that Ahyeon recently left the team due to personal reasons.
As a result, BABYMONSTER, initially scheduled to debut as a 7-member group, confirmed their debut as a 6-member group, excluding Ahyeon.
Also Read : His Name Is Still Registered on the BABYMONSTER Profile, but KNetz Claims Ahyeon Has Left the Group
Ahyeon was already known among fans as a trainee resembling Jennie of BLACKPINK.
Last February, YG Entertainment introduced Ahyeon as a highly talented trainee.
BABYMONSTER is YG Entertainment's first girl group in 7 years since BLACKPINK, and their debut is scheduled for November 27, 2023.
Upon hearing the news of Ahyeon's failure to debut with BABYMONSTER, netizens immediately expressed anger towards YG Entertainment.
Netizens commented:
Also Read : The Leg Hair of Lee Sun Kyun Negative for Drugs, Police Investigation Flow towards G-Dragon Also Draws Harsh Criticism
"What's wrong with YG ENT? Why do they always create sudden news? Is this media play?"
"I swear I really hate YG now; they don't appreciate the fans' waiting."
"Media play? I thought this was part of the promotion; I won't believe it until the D-day."
"My Ahyeon 😭 , why didn't you defend her!"
"BABYMONSTER will be incomplete without Ahyeon; if this is true, then you made the wrong choice."
"Oh God! Just when Chiquita and Asa made me happy, why does Ahyeon bring sad news!"
"It seems like it was predictable from the beginning, but will Ahyeon really debut after this?"
"I can't stand reading this article; ah, forget it, I give up."
"YG Entertainment, you have to take responsibility! This hurts the fans' hearts."
"Always like this, when will you seriously handle your artists?"
"Should I still support BABYMONSTER after this?" and many other protest comments.