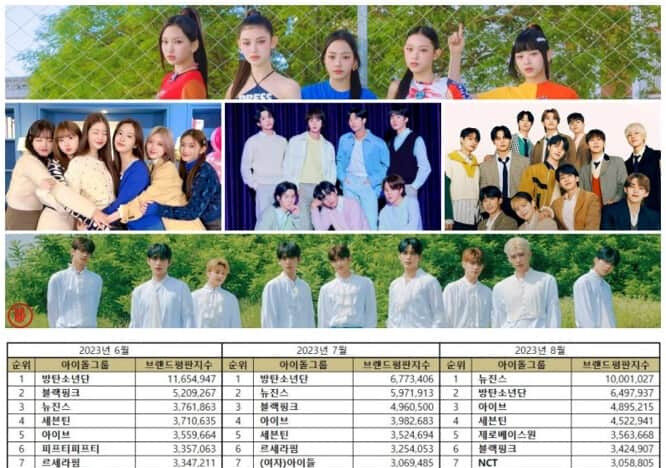 The Individual Idol Brand Reputation Rank – In August 2023, the Korea Business Research Institute announced the rankings of individual brand reputations that garnered attention. Through consumer participation analysis, media coverage, interactions, and community awareness indices for 1,720 idols, the ranking results have been revealed.
This analysis process took place from July 24th to August 24th. Replacing the previous first-place ranking held by BTS's Jungkook with a brand reputation index of 4,484,639 in July, in August, that position was taken over by Minji NewJeans.
Also Read : BLACKPINK's B-Side Song Called Disappointing by OP, Knetz Receives Reactions: What Are You Talking About
With a brand reputation index of 4,616,273, Minji NewJeans successfully secured the top position in the individual brand reputation ranking.
There was a remarkable increase in Minji NewJeans' index, with a growth of 124.30% since July. This result indicates impressive growth in terms of brand reputation.
In the keyword analysis, the dominant phrases associated with Minji NewJeans in high rankings were "Super Shy," "ETA," and "Billboard." Meanwhile, terms related to its highest rank included "fresh," "adorable," and "grow."
Both sets of keywords provide an overview of the positive image and significant growth potential for Minji NewJeans.
The positive-negative analysis results for Minji also revealed positive outcomes, with a positive reaction score reaching 93.97%.
Also Read : SECRET NUMBER performed on Inkigayo today, Netizens: They're all beautiful, but it's sad, why is the song…
On the other hand, after holding the first rank in the previous month, BTS's Jungkook now ranks second in the individual brand reputation ranking. Jungkook BTS's brand reputation index for August reached 4,415,051.
Not only Minji NewJeans, but Hanni NewJeans also experienced a significant ranking increase. Hanni successfully secured the third rank in this ranking with a brand reputation index of 4,032,937.
In terms of brand reputation index, Hanni saw a substantial increase of 171.75% compared to the previous month.
In the fourth rank, it appears that a member of NewJeans, Haerin, achieved a significant increase in her brand reputation index. The brand reputation index for Haerin NewJeans experienced an impressive surge of 195.90%, bringing its total score for August to 3,991,467.
Also Read : Winter of aespa Acknowledges Difficulty in Being Open About Her Feelings, Netizens Say: She's Me…
Meanwhile, in the fifth rank, the position is held by Jimin from BTS. Interestingly, after being in the third rank in the previous month, Jimin experienced a shift. Now, Jimin's brand reputation index reaches 3,671,188, indicating a 12.64% increase since July.
Here is the top 30 individual brand ranking for August 2023:
| Rangking | Idol |
| --- | --- |
| 1. | Minji NewJeans |
| 2. | Jungkook BTS |
| 3. | Hanni NewJeans |
| 4. | Haerin NewJeans |
| 5. | Jimin BTS |
| 6. | Jisoo BLACKPINK |
| 7. | V BTS |
| 8. | Hyein NewJeans |
| 9. | Danielle NewJeans |
| 10. | Kang Daniel Wanna One |
| 11. | Mimi OH MY GIRL |
| 12. | Winter aespa |
| 13. | Arin OH MY GIRL |
| 14. | YoonA Girls' Generation |
| 15. | Juyeon THE BOYZ |
| 16. | YooA OH MY GIRL |
| 17. | Jeongyeon TWICE |
| 18. | Lisa BLACKPINK |
| 19. | Rose BLACKPINK |
| 20. | Seulgi Red Velvet |
| 21. | Kyuhyun Super Junior |
| 22. | Jin BTS |
| 23. | Hong Eunchae LE SSERAFIM |
| 24. | Taeyeon Girls' Generation |
| 25. | Jaehyun NCT |
| 26. | Wendy Red Velvet |
| 27. | Mingyu SEVENTEEN |
| 28. | An Yu Jin IVE |
| 29. | Kim Heechul Super Junior |
| 30. | Jinni NMIXX |
SOURCE : soompi.com & KpopChart.net