One of South Korea's comedians and hosts, Jung Hyung Don, made a statement regarding his love story during his marriage with Taeyeon of SNSD on the show "We Got Married."
Jung Hyung Don admitted that while he was doing the show with Taeyeon from SNSD on "We Got Married," he secretly met someone else.
Seemingly betraying Taeyeon of SNSD, Jung Hyung Don's words left his conversation partner surprised.
Also Read : Denying Online Information, Jessi Reveals Her Actual Weight in Front of the Camera: Not So Important
Jung Hyung Don revealed that he met his wife, Han Yura, while filming "We Got Married."
On Friday, November 3, on the YouTube channel '뭉친TV,' Jung Hyung Don met with YouTuber Todin Todin (Kang Sojin) and had a conversation.
Jung Hyung Don asked Todin Todin why he broke up with his girlfriend. Todin Todin replied, "It's because of YouTube. It's time to work, but I don't think it's the right time to date now."
Also Read : Cube Entertainment Denies Rumors of Soyeon (G)I-DLE Involvement in Actor Lee Sun Kyun's Drug Case
Hearing this, Jung Hyung Don said, "What does YouTube have to do with it? I got married while working too."
"I'm the one who met my wife through 'We Got Married' with Taeyeon," he continued. Todin Todin was surprised and asked, "How could you do that?"
Jung Hyung Don answered the question firmly, saying, "Work is work, and love is love."
Previously, Jung Hyung Don worked with Taeyeon of SNSD as a virtual couple on MBC's "We Got Married," which aired in 2008.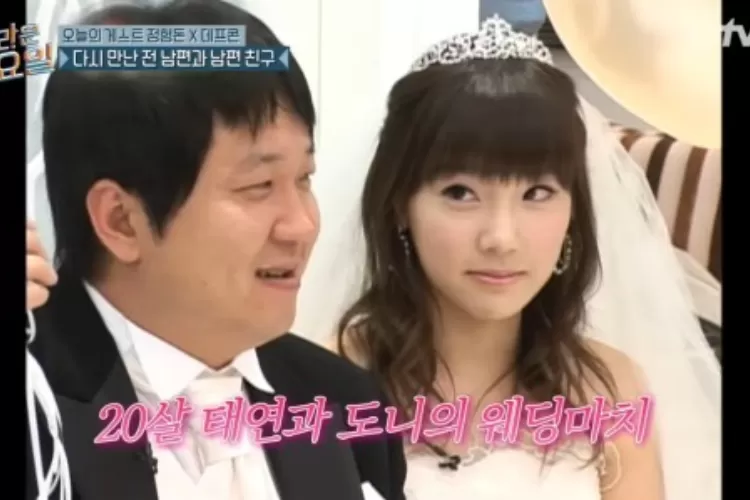 However, during their time on the show, Jung Hyung Don left after three months when his romantic relationship with his current wife, Han Yura, became public knowledge, and they got married on September 13 of that year.
Afterwards, Jung Hyung Don appeared as a guest on the show "Amazing Saturday," where Taeyeon of SNSD was a regular cast member. He said, "I always apologize (to Taeyeon). I can't forget Taeyeon's final words."
Also Read : Hyunsuk TREASURE Criticized as Fans Express Concern about His Attitude: Not Just Because of His Piercing…
"When dating rumors spread and we got married, it was our final shoot, and she quietly asked, 'What are you doing? Are you shooting the broadcast with me?'"
He said, "Love comes from a different place. I apologize," Jung Hyung Don said. Taeyeon replied, "It's okay. I'm fine."