The latest South Korean film titled "Loan Shark Boy" is set to hit theaters soon.
It's worth noting that "Loan Shark Boy" features talented young actors and actresses who have previously appeared in K-dramas.
The cast of "Loan Shark Boy" includes Yoo Seon Ho (Gang Jin), Kang Mina (Da Young), Yoo In Soo (Nam Yeong), Lee Il Jun, Shin Su Hyun, Lee Chan Hyung, and Seo Hye Won.
Also Read : Cha Eun Woo and Park Gyu Young Grow Closer in the Upcoming Teaser for A Good Day To Be A Dog Episode 4
In addition to these young talents, the film also stars veteran actor Yoon Byung Hee, known for his roles in films like "Smugglers" and "The Roundup."
For those unfamiliar with the film's plot, here's a brief explanation:
"Loan Shark Boy" is a teenage crime action film set in a school environment, focusing on one male student. According to a Soompi article, the student, named Gang Jin, consistently ranks at the bottom due to his frequent absences, lack of money, and an unsupportive background.
Also Read : Believer 2 Reveals the Latest Fierce Transformation Photo of Han Hyo Joo with This Skin Tone!
One day, he starts a loan sharking business, lending money to his schoolmates. His successful venture eventually leads Gang Jin to become the most powerful figure in his school.
Recently, a poster for "Loan Shark Boy" was released, featuring the cast members in a classroom setting. The poster captures a tense classroom atmosphere, with each character harboring their own stories and secrets.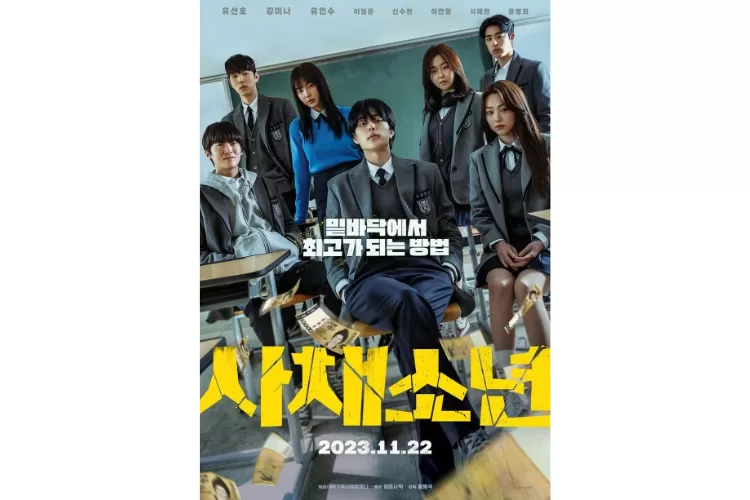 The caption on the poster reads, "How to become the best from the bottom," suggesting a hierarchy within the school.
Also Read : Acting alongside Song Hye Kyo and Kim Tae Hee in close proximity, Lim Ji Yeon in 'The Killing Vote: For Me, Actually
Are you curious about the rest of the story? Look forward to the premiere of "Loan Shark Boy" in theaters on November 22.