Starring Han Hyo Joo and Cha Seung Won, the film "Believer 2" apparently received unfavorable reviews.
In addition to Cha Seung Won and Han Hyo Joo, "Believer 2" also features Lee Sang Hee, Oh Seung Hoon, and Lee Joo Young.
In "Believer 2," Han Hyo Joo portrays a new character, while Cha Seung Won has been part of the series since the first season.
Also Read : Instagram Privacy Exposed! Wooyoung ATEEZ Suspected to be Dating Hyunjin LOONA
Actress Han Hyo Joo spoke about her efforts to portray Big Knife in "Believer 2."
She said, "I agreed to join this project based on my trust in the director because we had previously worked together on 'Beauty Inside.' This is a completely new character, so I saw it as a challenge. Big Knife wants to protect Mr. Lee; he doesn't know who Mr. Lee is, but he wants to protect him. There were many Mandarin dialogues to prepare before shooting, so I tried to memorize them one by one while taking lessons from a teacher three times a week, as if I were memorizing a song.
After some slow practice, I tried to learn it faster, changing tones and nuances, and practicing a lot. I kept muttering Mandarin words to memorize them while exercising in the morning or evening and even while walking along the Han River at night. I made it difficult; I cried on the treadmill a week before shooting. It was not easy at all, and I even wondered how long I had to keep doing it," as reported by Kpopchart from Naver.
Also Read : In the United States, First Lady Jill Biden Proudly Highlights Rose of BLACKPINK as an Active Advocate for Mental Health Issues at the APEC Summit
According to Allkpop, where it was reported that viewers of "Believer 2" restrained themselves in expressing their views on Han Hyo Joo's film.
"Believer 2" garnered much anticipation from viewers, but the excitement turned into disappointment as many left negative reviews.
Through Naver film reviews, 3107 netizens left an average rating of 2.05 out of five stars.
As of the writing of this article, 5654 netizens participated, slightly raising the average to 2.12.
Some comments include: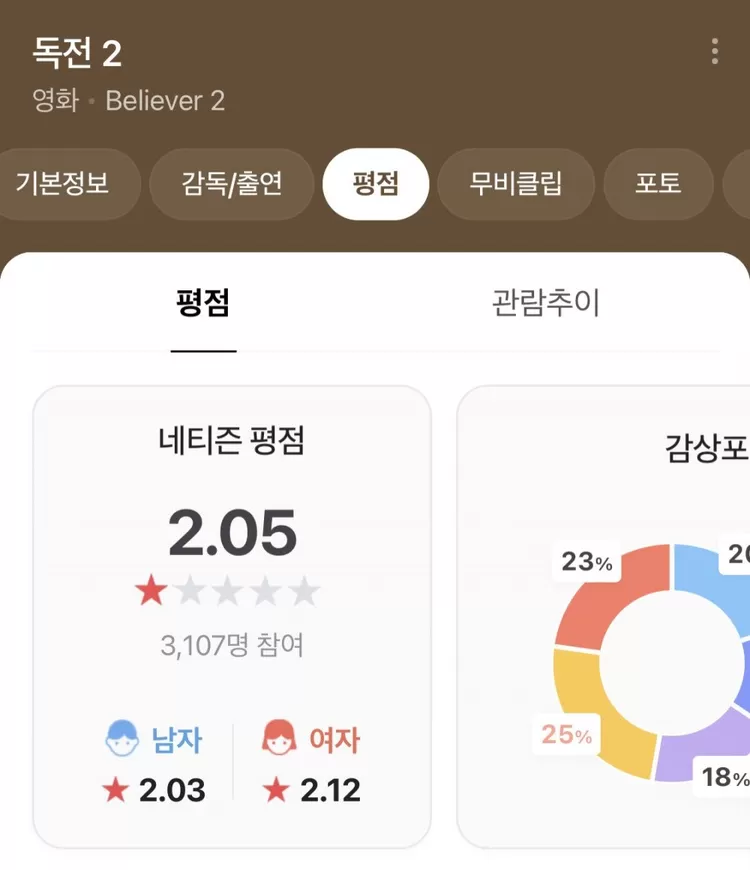 "I turned it off after watching the first 10 minutes."
"The main problem is that it's not canonical. All characters lose their charming personalities from the previous sequel, which doesn't make sense."
"It feels like a multi-verse/parallel universe of Believer."
Also Read : How Severe is Ahyeon Illness that Caused the Cancellation of the Debut with BABYMONSTER? This is the Rumor Circulating!
"All the Netflix original films are bad."
"That's because 'Believer 2' is a remake of a Hong Kong film, and this is its original story. Now there's nothing original to benchmark against; it shows what really is."
"I was told not to watch this by 5 different people lol."