Recently, the new agency of D.O EXO, namely Company SooSoo, has caught the attention of KNetz.
The agency D.O EXO, known as Company SooSoo, has issued an announcement regarding their artists' complaints.
The complaint announcement shared by D.O's agency, Company SooSoo, has immediately become a subject of comparison for KNetz with SM Entertainment.
Also Read :First Appearance in Front of the Public, This is What G-Dragon Said
On Monday, November 6th, Company SooSoo uploaded the announcement through their official social media.
After D.O EXO officially left SM Entertainment at the beginning of November, Company SooSoo became officially active as his agency.
Company SooSoo was established by D.O to manage his personal schedule, while for EXO's schedule, D.O still follows the schedule of SM Entertainment.
Also Read :The Hashtag #STAY STRONG G-DRAGON is Now Becoming a Widespread Trend on Social Media as it Coincides With This Arrival!
The posts shared by Company SooSoo, overseeing D.O, immediately gained attention after sharing the announcement.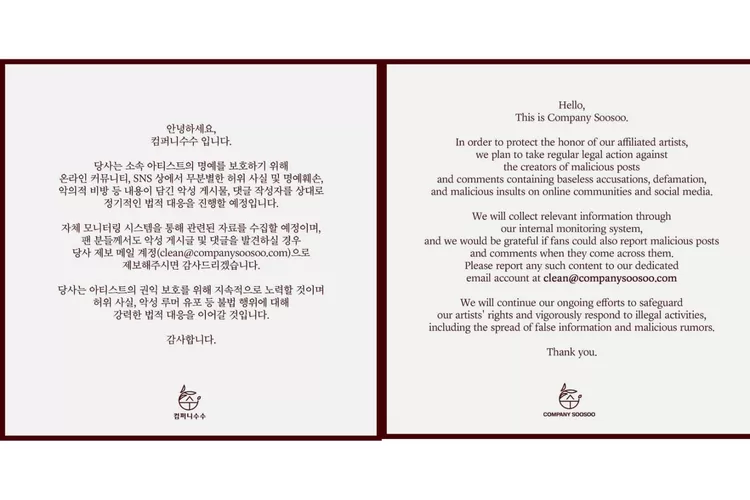 Company SooSoo posted about the protection of their artist from malicious posts or comments on social media that lead to slander and fake news.
Company SooSoo also requested fans who come across malicious posts or comments to report them to their email.
Seeing this, KNetz immediately compared Company SooSoo's firm stance with SM Entertainment. According to KNetz, during his time at SM Entertainment, D.O never received such decisive actions regarding malicious posts.
Also Read :G-Dragon of BIGBANG Comes Voluntarily, Police Deploy 150 Experienced Officers
In fact, KNetz stated that this is the first time D.O from EXO has received such a firm response from an agency.
Here are some reactions from KNetz on Theqoo when D.O's agency, Company SooSoo, shared their firm complaint on social media:
"I will support him; this is the first time D.O is being treated well."
"I really don't understand why D.O always gets hateful comments."
"Wow, as soon as he moved to a new agency, he gets strong protection. This is great."
"At last, I hope Company SooSoo imposes strict punishments, unlike SM."
Also Read :The closeness of Rose BLACKPINK with the daughter of Samsung's Executive Chairman at the LACMA GALA is in the spotlight of KNetz
"This is a very different approach from SM, keep it up."
"A great agency, immediately demanding action against those who harm D.O. Don't follow SM's example, hahaha."
"When he was at SM, D.O was always ignored. This time, he made the right choice of agency."
"I'm really upset that SM didn't act like D.O's new agency, protecting without any consequences."
"Much better than at SM; I will support him."
"Wow, SM never demanded action against hateful comments. Impressive."