LE SSERAFIM has officially released a mysterious comeback teaser amidst the buzz of their impending return. In recent times, LE SSERAFIM has been rumored to be gearing up for a comeback.
On Thursday, October 11, 2023, fans were taken by surprise when LE SSERAFIM suddenly unveiled a teaser with a mysterious theme. The teaser featured the capitalized phrase "TONIGHT, I DON'T CARE WHAT'S WRONG OR RIGHT" at the end of the video.
Though the reason for the unexpected teaser release remains undisclosed, fans have been speculating that it signals the group's impending comeback. Earlier reports suggested they would release a new digital single at the end of October, though this information had not been officially confirmed.
Also Read :BABYMONSTER's Debut Delays, Korean Media Reveals Ahyeon's Position and Sparks Netizen Discussions: Still Can't Believe It…
As it turns out, the teaser serves as their official announcement of a comeback with a new digital single. LE SSERAFIM has now released the promotion schedule for their latest digital single, "Perfect Night."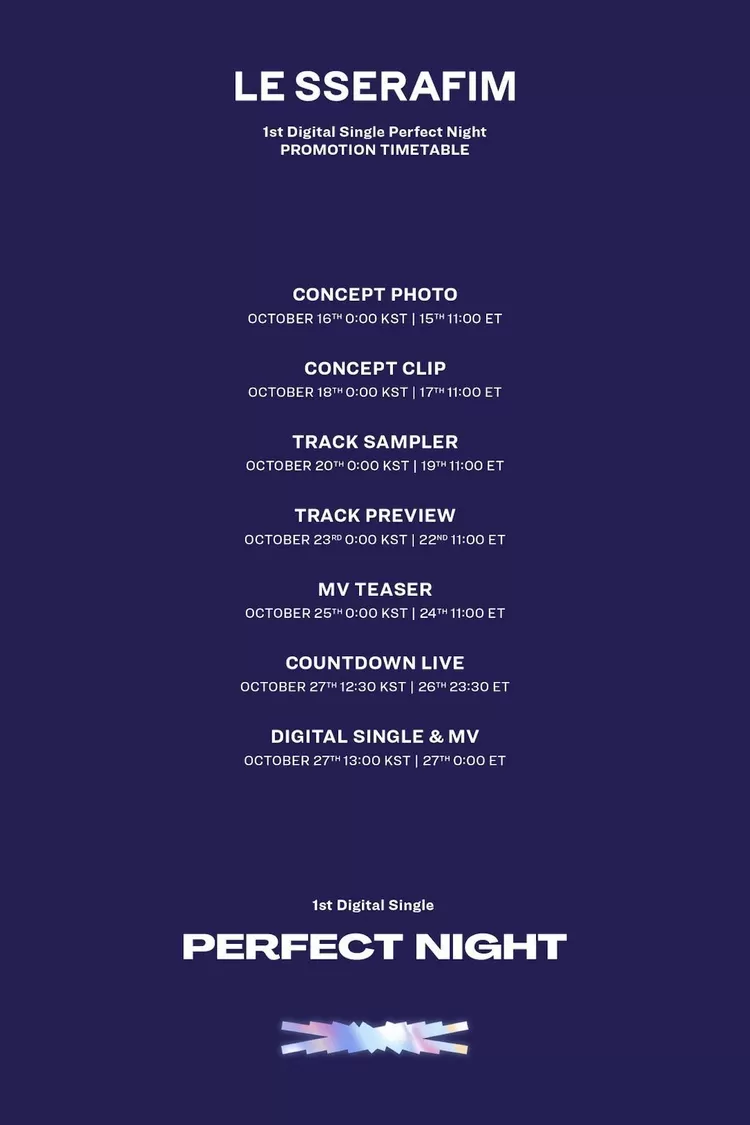 The comeback teaser prominently showcases the LE SSERAFIM logo, followed by a futuristic-looking bright pink car speeding through a dark area. In the closing moments of the video, it's revealed that the dark area is actually a circular racing arena seemingly without end.
This has prompted fans to speculate about their comeback theories, with netizens sharing comments such as:
"That's the car from the FEARLESS music video!!!"
"I just know this is going to be another hit song."
"The music sounds so good; I can't wait for this."
Also Read :YG Entertainment Releases 'You and Me' Jazz Version, BLACKPINK's Jennie's Vocals Receive Attention.
"Huh? Isn't that the Overwatch logo on the car? Are they doing a collaboration?"
"They're collaborating with Overwatch? Wow…"
Meanwhile, Source Music announced that "Perfect Night" is a song that conveys an energetic message, suggesting that even on a bad day, it can become a delightful one if spent with loved ones.
Source: Soompi