South Korean footballer Son Heung Min has recently been rumored to be planning a marriage with a popular actress.
As reported by KBIZoom, the rumor circulating suggests that he is planning to marry the beautiful actress Moon Ga Young.
The rumor started from a user on X (Twitter) with the handle @KKVNOI, who claimed that Son Heung Min and actress Moon Ga Young were preparing for their wedding.
Also Read : Drug Case Fallout Halts Lee Sun Kyun Advertising Contract, Actor and Wife Required to Pay Billions in Penalties
According to the account, Son Heung Min and Moon Ga Young had met with a wedding planner.
The account owner wrote, "I know someone who is a wedding planner, and both of us came for a consultation."
However, shortly after posting, the account owner quickly deleted the tweet.
Later, after deleting it, they posted again, saying, "I deleted the post about Son Heung Min. These people keep denying the truth to me. The truth won't change. I heard this from a wedding planner, but I don't want to believe it. Don't believe it."
Also Read : New Debut, YOUNG POSSE Already Criticized for Their Visuals Being Considered Lacking
Here is a screenshot of the post: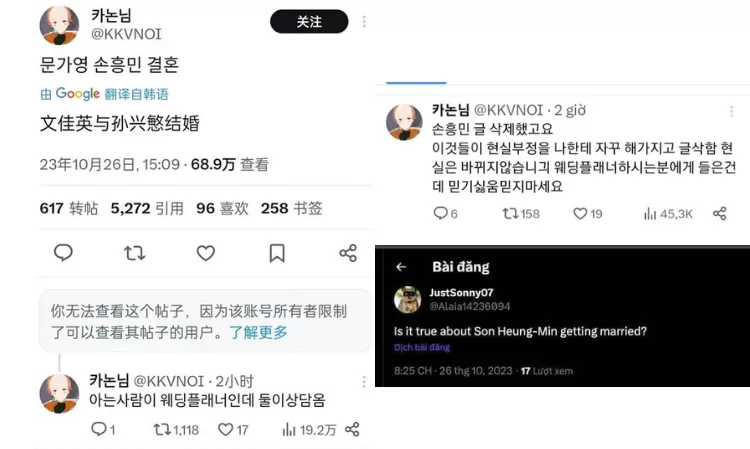 After the post was deleted, netizens who became aware of this rumor became increasingly curious about the details. In fact, the post has garnered nearly 1 million views on X (Twitter).
Naturally, this circulating rumor has sparked discussions among Korean netizens.
What's even more interesting about this rumor is that both Moon Ga Young and Son Heung Min are known to have lived in Germany.
Also Read : FIFTY FIFTY Officially Dissolved! Keena Now Terminates the Contract, and This Is the Decision of Three Other Members
In addition, Professor Park Jung Ho recently hinted that a major South Korean sports star would soon be getting married.
It is not known who the professor is referring to, but netizens have connected the hint to the rumor about he and Moon Ga Young.