BamBam GOT7 recently expressed his frustration on his personal social media, stating that he is fed up with haters spreading false news about him.
It's known that BamBam has been friends with Ten from NCT for a long time, and he recently invited Ten to appear on his YouTube show, Bam's House.
However, a hater captured a moment that led to criticism of BamBam, claiming that he made Ten uncomfortable. This individual referred to BamBam as strange and even used the word "crazy" to describe him.
Also Read : Rumored to Marry Actress Moon Ga Young, Footballer Son Heung Min Provides a Brief Statement
GOT7 fans came to BamBam's defense, but some of their accounts were eventually restricted.
Not only that, BamBam also faced criticism for declaring himself a hardcore fan of Taeyeon from SNSD and expressing a desire to get closer to her, which was seen as unsettling.
Haters accused BamBam of being obsessed with Taeyeon, labeling him as strange and even likening him to an obsessive stalker. They also compared him to Hoshi from SEVENTEEN, who is seen as cute when trying to get closer to his idol, Taemin.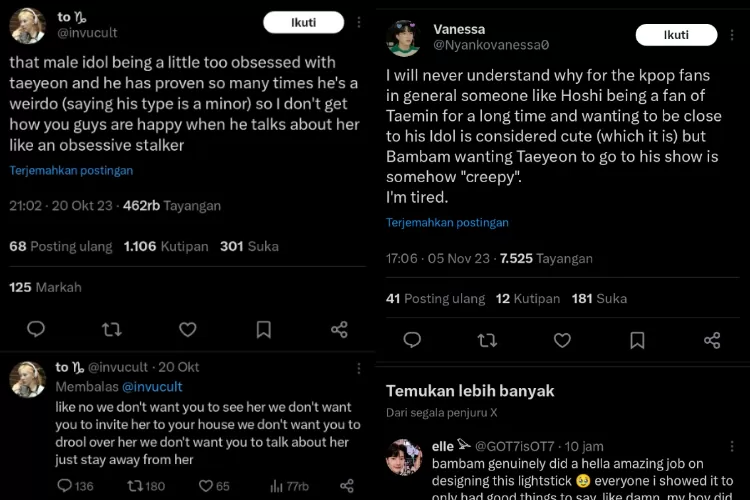 BamBam received more than just mean comments, so fans claimed to have gathered screenshots of the haters' actions and sent them to the company.
Also Read : Drug Case Involving G-Dragon Drags BTS and Kim Chaewon into the Spotlight, Police Provide Further Updates!
Fans warned the haters that BamBam would not stand by while they spread false news and wrote hurtful comments.
As expected, on November 6th, BamBam posted his statement on his personal account and tagged his company, ABYSS.
"Can you do something about the people who talk about me and create fake news? I'm really fed up and can't take it anymore. And those of you who have a problem with me, just wait for the final episode," wrote BamBam.
In a subsequent tweet, BamBam emphasized that he was very serious. He made it clear that no matter where the haters were, it wouldn't stop him from taking action.
"Before I continue with my work, I'll let you know. This time, I'm dead serious. All you haters think I can't do anything because you're in another country, right? I will do my best to welcome you. Let's see what happens," BamBam's stated in his tweet.
Also Read :Rumors of RM BTS Dating Karina aespa Have Surfaced Because of This!
Seeing their idol's decision, fans felt proud of BamBam's and continued to support him, while also warning haters to stay away from him.
"I really like it. I really like BamBam in this mode. Tears are flowing."
"This should have been done a long time ago."
"BamBam, who is usually patient, getting like this means he's really angry…"
"It's time to protect our BamBam's."
"Hoping that legal action will be taken."
"I'm glad to hear it! I've been waiting for this for a long time. Let's stay motivated and fight."
"It's time to be serious, it's great."
"Show it to them!!"
"Don't mind the haters, just do what you want."