On November 6, Kwon Jiyong, better known as G-Dragon, voluntarily visited the police station to undergo an investigation related to a drug case that implicated him.
Previously, G-Dragon was also rumored to have used drugs shortly after the drug case of Lee Sung Kyung came to light. However, after attending the investigation process and undergoing a simple test, G-Dragon tested negative for drugs.
Shortly after the release of the drug test results, which proved his innocence in drug use, G-Dragon immediately posted on his Instagram. In his post, G-Dragon delivered words that were quite striking, almost as if he were addressing those who had spread negative news about him this time.
Also Read :G Dragon Was Caught Liking an Old Instagram Post by Karina aespa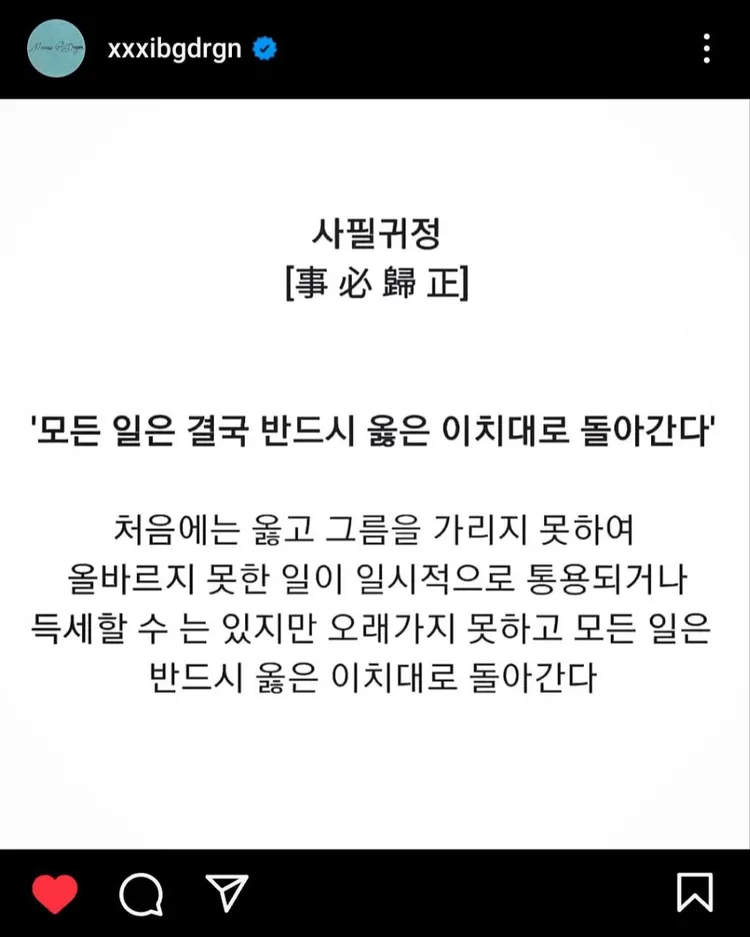 "Everything eventually comes back to the right path."
"At first, it's hard to distinguish between right and wrong, so wrong things might temporarily become popular or gain power. However, this won't last long, and everything will eventually return to the right path."
Indeed, since the news broke, G-Dragon confidently denied any drug use and stated that he was completely drug-free. Through his legal representatives, he even declared that he would take strict actions against those who spread unverified news about him.
Also Read : G-Dragon Was Released After 4 Hours of Interrogation by The Police: Initial Test Results Negative
G-Dragon admitted that he only learned about the drug use rumors through media reports and not through direct communication from the police.
In response to G-Dragon's Instagram post, many netizens provided various comments and reactions, such as:
"Seriously, this is the first time I've seen G-Dragon like this." "G-Dragon, stay strong! I don't think it will be confirmed until the detailed examination is completed, and I hope you are indeed innocent."
"Ha, how unfair this is. Who will be responsible for the damage suffered by G-Dragon?"
Also Read : Will Lee Sun Kyun Face Punishment for Drug Use? The Attorney Explains!
"Please, I beg you, capture all those who spread those nasty words and never make peace with them."
"I can't believe he had to resort to this. I hope all the negative news is untrue."
After G-Dragon shared this post, his sister, Kwon Dami, also shared it on her private Instagram story.
Meanwhile, the police will continue the in-depth investigation process to determine whether G-Dragon indeed did not use drugs.