Recently, the names RM BTS and Karina aespa have become a hot topic among netizens, especially on the Pann website.
RM from BTS has been rumored to be dating Karina aespa by an OP with various evidence they possess.
So, why did the OP create a rumor that RM BTS and Karina from aespa are in a relationship or dating?
Also Read : Song Joong Ki Attitude Deemed Rude After Refusing to Mention His Child's Name to Fans, KNetz Divided!
Initially, the OP explained that Karina from aespa suddenly mentioned the fact that she randomly listened to Se So Neon this year.
Coincidentally, RM from BTS is also known as a fan of Hwang Soyoon, one of the members of Se So Neon.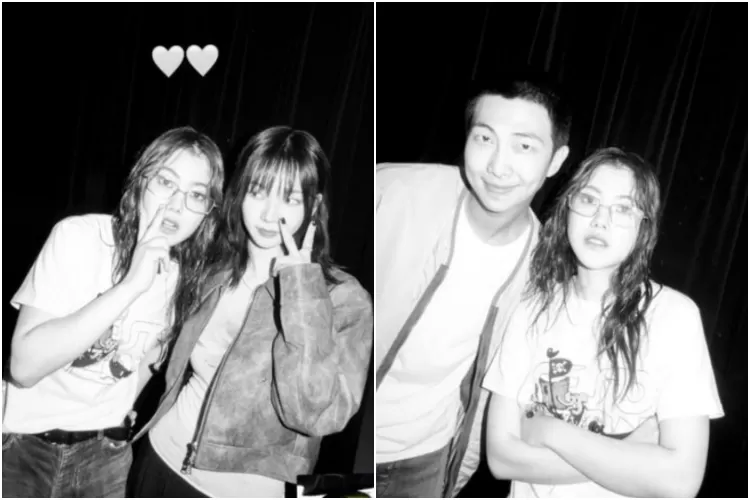 The OP also highlighted posts from both artists that were said to have a similar vibe and atmosphere.
The photo in question is when RM from BTS and Karina from aespa both uploaded personal photos with Hwang Soyoon.
However, if this is true, it certainly contradicts what RM from BTS stated in his Weverse broadcast on Tuesday, October 11th.
Also Read : TripleS Suspected of Plagiarizing IZ*ONE 'Fiesta' Song, Unexpected Incident Sparks Cynical Reactions from Korean Netizens!
In that broadcast, RM from BTS openly admitted that he is currently single and even asked his fans to find him a girlfriend.
Meanwhile, with the emergence of this rumor, KNetz are reluctant to take this seriously, despite the mixed reactions.
Netizens even mentioned that this information is quite ridiculous and unsubstantiated.
Here are some comments from netizens on the Pann website after this dating rumor surfaced:
"It's so absurd that I can't even comprehend it."
"RM seems to be dating a girl who likes art."
Also Read : TXT will make a cameo in Shinchan, but netizens are mentioning Haechan from NCT and Karina from aespa, saying they will throw a tantrum…
"Are you serious?"
"I don't know what you're talking about."
"RM doesn't have a girlfriend (RM himself mentioned this on Weverse Live). Please delete this useless post!!!"
"Sorry, but this is the most astonishing troll post I've ever read."
"Source: DC Gallery hahahahaha."
"What is this hahahahah? Just because she recommended a song? I also like Se So Neon songs, so am I dating Karina???? You're acting like a child. By the way, Karina went there with her style."