Destined With You – The final episode of Destined With You has now reached its climax.
The closing scene of Destined With You shares tension that briefly made Hong Jo disappear.
Destined With You is a romantic drama starring Rowoon as Jang Shin Yu, an attorney bound by an ancient curse.
Jo Bo Ah plays Lee Hong Jo, a government employee who holds the key to Jang Shin Yu's freedom, trapped in the form of a forbidden book sealed 300 years ago.
Also Read:Kim Hae Sook and Shin Min Ah portray a mother and daughter in '3 Days Vacation,' set to be released in December!
In the previous episodes, the days lived by Lee Hong Jo and Jang Shin Yu were filled with love.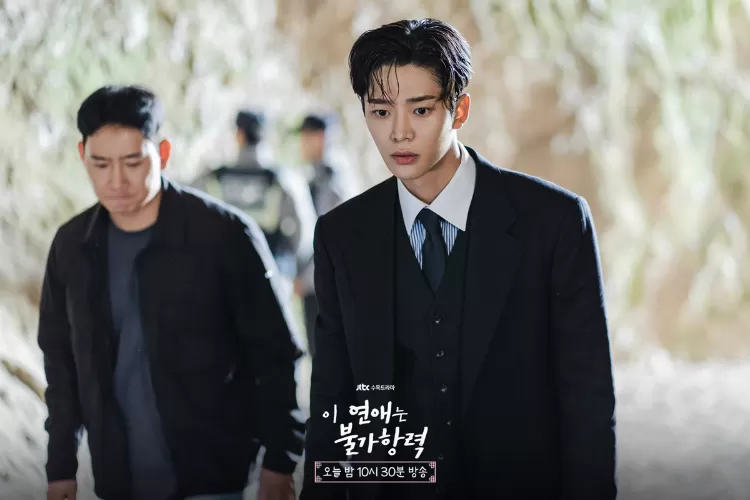 Now, their happiness is short-lived as they once again face an unexpected crisis.
In the final episode, Lee Hong Jo is seen lying unconscious with Na Joong Beom (Ahn Sang Woo) bowing towards her, while Jang Shin Yu appears bewildered.
Also Read :The BTS Member Categories at the 2024 Grammy Awards Have Been Announced, Netizens Express Concerns About Categories V and RM: Not Appropriate…
Newly released stills show Jang Shin Yu running to Mount Onju to rescue Lee Hong Jo, who has been kidnapped by Na Joong Beom. Fear is evident in Shin Yu's eyes as she senses danger.
Lee Hong Jo, hiding behind a tree, wears a tense expression as Na Joong Beom relentlessly searches for her.
Jang Shin Yu is now overwhelmed with sadness and anger when she finds Hong Jo unconscious, bound underground with her hands and feet tied.
This time, the question lies with Na Joong Beom, who is making a strong effort to endanger Lee Hong Jo.
Also Read :From BTS to aespa, Here is the Lineup of K-pop Idols Nominated for the 2024 Grammy Awards Along with Their Categories!
Will Hong Jo and Shin Yu have a happy ending this time?
Watch the complete final episode of Destined With You to see the conclusion of their fateful cycle.
Source: Soompi