Seunghan RIIZE continues to be a hot topic among netizens after several of his old photos and videos were leaked.
In the circulated photos and videos, a different side of Seunghan RIIZE is revealed before he officially debuted as an idol.
Eventually, a former friend of Seunghan RIIZE exposed the idol's behavior before his official debut.
Also Read : Finally! Members of BLACKPINK Are Reported To Have Extended Their Group Activities Contract!
According to Allkpop, through an online forum, someone claiming to be Seunghan's former friend shared many details about Seunghan's true behavior.
This alleged former friend of Seunghan claimed to have known him since his pre-debut days, stating that Seunghan's behavior was very different in front of the camera.
Through a series of Instagram story screenshots, the ex-friend mentioned being close to Seunghan due to gatherings with mutual friends.
It was during this time that Seunghan RIIZE proudly revealed himself as a trainee at a well-known entertainment company.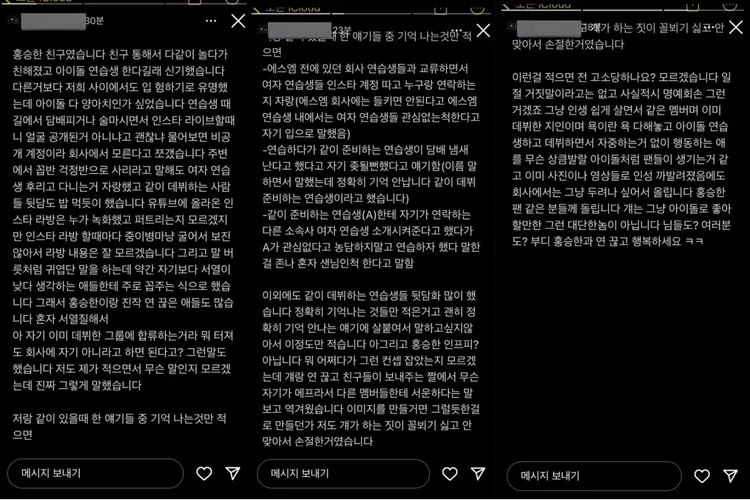 Translet :
---
"I am a friend of Hong Seunghan. We became friends through mutual acquaintances and often hung out together. When he told us that he was a trainee idol, I was quite fascinated. Among other things, he was known for his foul language. I wondered if all idols were like that, playing some kind of role.
When he was still a trainee, he would smoke or drink on the street and go on Instagram Lives. Some people asked him if it was allowed to show his face when it shouldn't be. He would reply that it was his personal account, and the company wouldn't know.
Even when people around him expressed concern, he bragged about seeing trainees, women, and tried to exert authority over them, talking behind the backs of people who would debut with him as if it weren't a big deal. I don't know who recorded or leaked the Instagram Live, so I don't know exactly what was said in the video.
He often said things like 'you're cute' to others, but it was mostly directed at those he considered lower in rank than himself. Many people who were once close to Hong Seunghan severed ties with him because of his petty games in the hierarchy. He would say, 'Oh, I just joined a group that has already debuted, so if there's a problem, I can just tell the company that it wasn't me.'
I don't quite understand what I'm saying as I write all of this, but he really said that. These are some things I remember when we used to hang out:
– He talked about interactions with female trainees from other companies on the Instagram account he secretly followed. (He said that, in SM Entertainment, he pretended not to be interested in female trainees so as not to get caught.)"
"When practicing, he said he almost got into trouble when fellow trainee A commented that he smelled like cigarettes. (He mentioned the name of the trainee, but I don't remember exactly. He said they were preparing to debut together.)
He once told fellow trainee 'A' that he would introduce him to a female trainee from another agency whom he contacted, but when 'A' showed no interest and tried to laugh it off, Seunghan accused the trainee of acting, like some kind of 'lonely teacher.'
He talked a lot about other trainees preparing to debut together. I only noted things I remember clearly, and I don't want to make up stories about things I don't remember. By the way, Hong Seunghan is not an INFP. I don't know why he adopted such a concept, but it feels disgusting when friends who know about our relationship send me GIFs saying he's an INFP. If you want to create a public image, at least make it a credible one.
I also ended the relationship with him because I didn't like what he was doing. If I write this, could I be sued? I don't know. There's no lie here, and everything is the truth, so this could be a genuine defamation issue against him. I'm only posting this because I'm afraid of what might happen if the company lets him promote regardless of everything. I'm sharing this for Hong Seunghan's fans. He's not just a great guy liked as an idol. I hope you can also end your relationship with Hong Seunghan like the rest of us and be happy."
---
However, the former friend felt uneasy about Seunghan's behavior, noting that he did not exhibit the qualities of a good trainee. Seunghan RIIZE was already known for using foul language, smoking, and drinking during his trainee days.
Also Read : Seunghan RIIZE Suspected of Hanging Out with Soobin TXT in Itaewon!
Furthermore, Seunghan was accused of verbally attacking fellow trainees, using offensive language and intimidation.
After exposing Seunghan's true behavior, the former friend stated that it would be best to terminate the contract with the idol. According to the ex-friend, Seunghan previous actions could potentially tarnish RIIZE's reputation upon his return.
Netizens who witnessed Seunghan's actual behavior shared various comments, such as:
"I don't know if these claims are true or just lies, haha."
"SM surely knows the best way to remove Seunghan RIIZE, but I hope SM doesn't stay silent."
"I just feel sorry for the other members."
Also Read : Revisiting the Controversy of BIGBANG Daesung, All Cleared Up
"Is there any reason to shield him?"
"We have to wait to see if everything that has been leaked is proven true, and we also don't know if he really was his friend."
"Look at LE SSERAFIM, who is increasingly successful after facing a similar case with its members."
"I just want to know the best solution for RIIZE's future."
What are your thoughts on this situation?