Korean Media in Panic After G-Dragon Issues Firm Statement!
Following allegations of tampering with evidence for his recent drug test, such as shaving his hair and cutting his nails, G-Dragon's openly reaffirmed his commitment to address false statements.
Many Korean news outlets appear to be keen on tarnishing G-Dragon's reputation. Korean media openly expressed their 'displeasure' by spreading articles that seemingly accuse G-Dragon's of removing evidence from the drug test.
After these articles gained attention from G-Dragon and his legal team, they promptly released a statement, asserting their intention to take legal action against the dissemination of such news.
Also Read : Demands to Remove Lisa BLACKPINK Resonate Among Netizens
Headlines that seemed to corner G-Dragon's, such as "G-Dragon Shaved All His Hair Except on His Head… 'Nails' Collected for Accurate Analysis," were modified after G-Dragon's took a more assertive stance against false news.
This came after reports claimed that G-Dragon destroyed evidence for the drug test. In response, G-Dragon willingly provided evidence, including nail clippings and hair, to the relevant authorities.
He aimed to clear his name of baseless accusations rather than out of obligation. The police actually had no right to collect evidence from G-Dragon.
When G-Dragon was summoned by the police, the court declared insufficient evidence, yet G-Dragon willingly provided nail clippings, hair, and more.
Also Read : Han So Hee has now removed all facial piercings due to the increasingly diverse public opinion: "I have a personality…"
However, Korean media and the police insisted on lying about this matter.
In a statement released through his lawyer, G-Dragon openly declared that they would provide evidence, such as leg hair, and mentioned that he had not dyed or shaved his hair for the past 5 months, contrary to news reports indicating a desire to summon him for a test.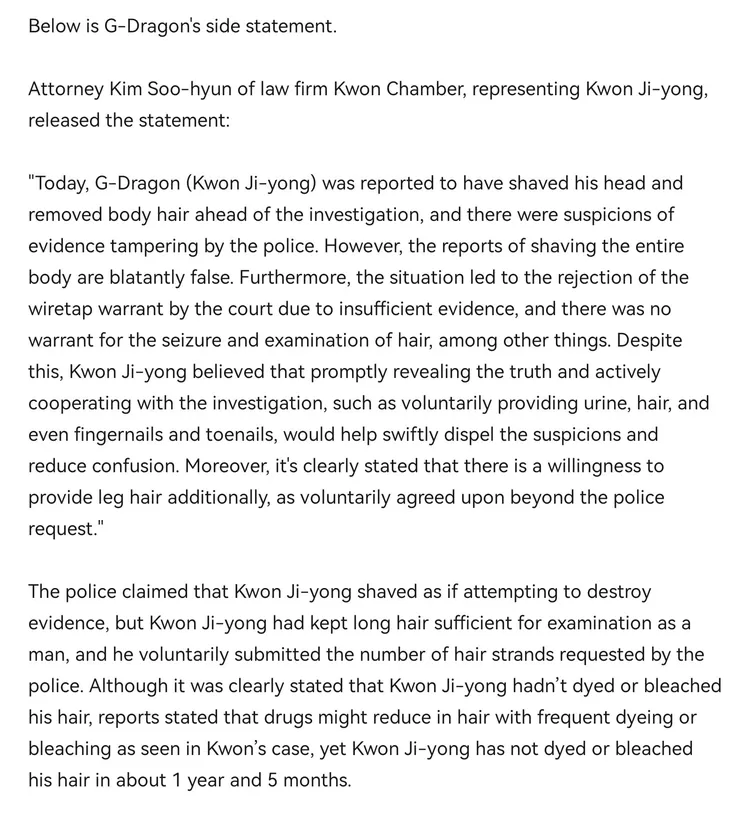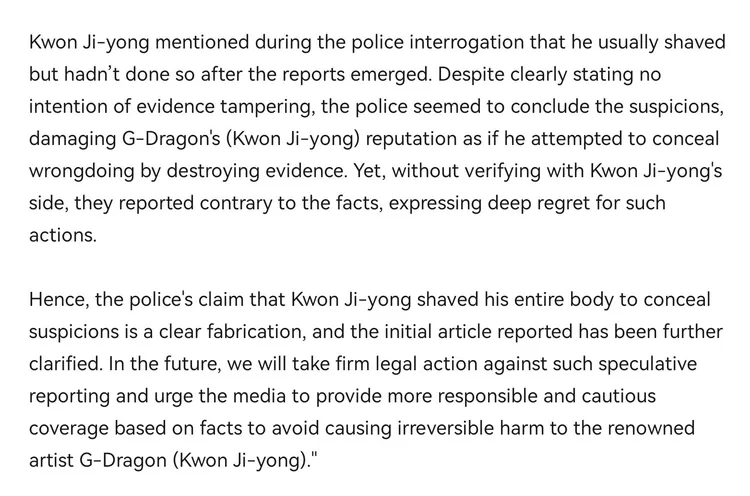 With this, G-Dragon could counter-sue the police and media. This led many media outlets to modify their articles after publishing them to the public.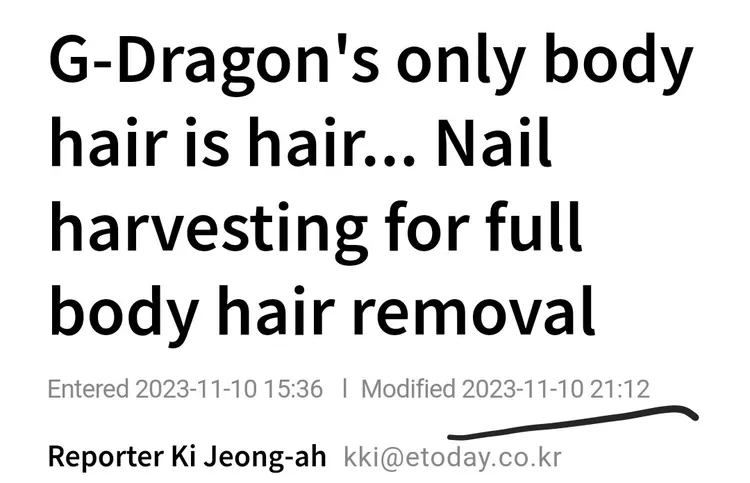 All the media is trying to do now is prove that G-Dragon is truly at fault, from claiming he didn't apologize, shaved hair on his body, was arrogant during the qualifying examination, to his walking style being labeled as abnormal.
Ultimately, when the court declared G-Dragon negative, the media persisted in making the public believe that G-Dragon is still at fault despite all accusations.
Also Read : G-Dragon of BIGBANG Comes Voluntarily, Police Deploy 150 Experienced Officers
They continue to release articles with new lies one after another to bring down G-Dragon.
The only way to stop the accusations and the media and police stance is by taking legal action.
Korean media appears nervous as G-Dragon's side announces their intention to take legal action.