The news of Ahyeon's departure from BABYMONSTER undeniably has come as an unexpected surprise.
Ahyeon, whose debut with BABYMONSTER under YG Entertainment was eagerly anticipated, ultimately dashed hopes for fans.
In the official announcement released by YG Entertainment, it was revealed that Ahyeon decided to leave BABYMONSTER due to personal reasons, or more precisely, an illness she is suffering from.
Also Read : Han Hyo Joo Injured and Taken to the Hospital During the Filming of Unexpected Business 3!
Despite rumors circulating that Ahyeon would remain part of BABYMONSTER and debut at a later date, in reality, many doubted these speculations.
There is even speculation that if Ahyeon stays with YG Entertainment, her fate may be similar to Bang Yedam and Mashiho, former members of TREASURE.
Simultaneously with the news of Ahyeon's canceled debut with BABYMONSTER, there are indications that she left the group not solely due to health reasons.
A claim related to Ahyeon departure from BABYMONSTER had apparently been discussed long before YG Entertainment announced the status of the 2007-born girl.
Also Read : YG Entertainment Does Not Remove Ahyeon BABYMONSTER Name from Naver Profile, Here is Their Official Statement
This discussion took place on an online community forum, mentioning that she left the group because she would debut with another agency.
According to the OP, it seems Ahyeon received a contract offer from another agency before her debut with BABYMONSTER.
However, because Ahyeon was bound by a contract with YG Entertainment, she couldn't cancel the contract unilaterally.
The contract between Ahyeon and YG Entertainment could only end if she paid a penalty to terminate the contract.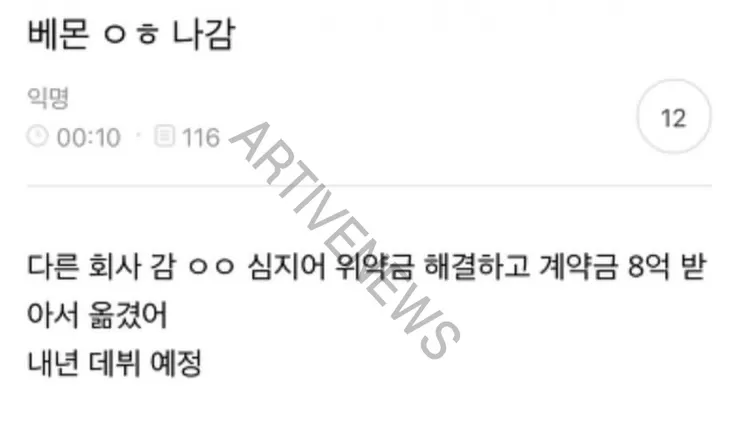 It was also explained that the company or agency trying to recruit Ahyeon had paid this penalty to YG Entertainment.
Meanwhile, the OP explained that a separate contract deposit of 800 million won had been paid to Ahyeon.
Also Read : The Charm of Rora BABYMONSTER in Her Visual Debut Photos Impresses Netizens
The OP, estimating this incident, then stated that Ahyeon would start her debut in 2024 with her new agency.
On the other hand, speculation about Ahyeon maintaining her exclusive contract with YG Entertainment also arose alongside the company's statement.
In their statement, YG Entertainment said that Ahyeon is focusing on recovering her health.
Additionally, rumors about Ahyeon moving to another agency and having paid a penalty to YG Entertainment have not been confirmed.
Therefore, the information from the online community is possibly challenging to confirm for its accuracy.
Also Read : Ahyeon Fails to Debut with BABYMONSTER? Netizens Angry and Demand YG Entertainment: Media Play…
YG Entertainment has also not responded to any of the rumors circulating on the online community site.
Meanwhile, the true status of Ahyeon, who is reported to have left BABYMONSTER, remains a mystery and leaves fans curious.