Several fans of G-Dragon are engaging in activities to protect their idol.
Using campaign filters and "G-Dragon Guardian of Daisy" hashtag on Instagram, fans are raising awareness.
The campaign filters used by fans convey the intention to protect and support G-Dragon.
Fans are using filters with aster flowers, logos, and symbols of G-Dragon's fashion brand.
Also Read : Ahyeon is suspected of leaving BABYMONSTER not because of illness, and it is rumored that she has already paid a fine to YG Entertainment!
Posts using these filters have turned into a movement to protect G-Dragon.
The filters have spread widely among fans, and they are posting them to show support for G-Dragon.
Not only among fans, but some colleagues and staff working with G-Dragon are also participating in the campaign.
G-Dragon's brand, Peaceminusonedotcom, is also actively involved in the campaign.
Recently, CL joined the campaign by posting a photo of herself with G-Dragon.
Not only CL, but CL's sister, Lee Harin, also posted the filter on her Instagram story.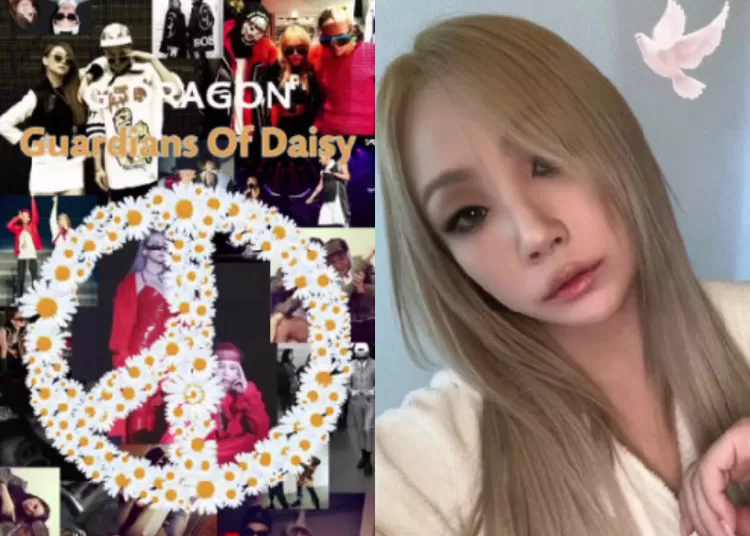 CL and G-Dragon, who were colleagues at the same agency, YG Entertainment, often spend time together.
Earlier, G-Dragon's sister, Kwon Dami, claimed that her brother was innocent of drug allegations.
Also Read : Han Hyo Joo Injured and Taken to the Hospital During the Filming of Unexpected Business 3!
On November 14, 2023, she said, "I really can't stand it XX. You're writing a novel."
Additionally, Kwon Dami's husband, actor Kim Min Jun, shared his thoughts by posting "G-Dragon Guardian of Daisy" on November 15.
Several of G-Dragon's colleagues, such as Kwon Twin, Taehyun (Hair Stylist), Choice37, and others, also showed their support by using the campaign filter.
On October 25, police charged G-Dragon with violating the Narcotics Control Act.
Also Read : The Charm of Rora BABYMONSTER in Her Visual Debut Photos Impresses Netizens
Later, G-Dragon cooperatively responded to the police call, stating, "I have never used drugs. I also have no connection to the drug law violation reported by the media."
"However, I am actively participating in the investigation by investigative agencies because I know many people are concerned," he added.