NewJeans is once again the talk of netizens following their appearance in Suzy's latest drama titled 'Doona.'
NewJeans made another cameo appearance in the drama 'Doona,' starring Suzy, and immediately caught the attention of various netizens.
Even though their appearance was brief, just a few seconds in the form of a poster, NewJeans managed to steal the spotlight in the recently aired 'Doona' drama (20/10).
Also Read : BLACKPINK Becomes the First Group Whose All Members Have 10 Million Monthly Listeners!
NewJeans' debut year became the focal point in the 'Doona' drama, with netizens speculating that it was an auspicious sign.
In 'Doona,' NewJeans appeared as an idol in the form of a large poster displayed alongside posters of other idols within the drama.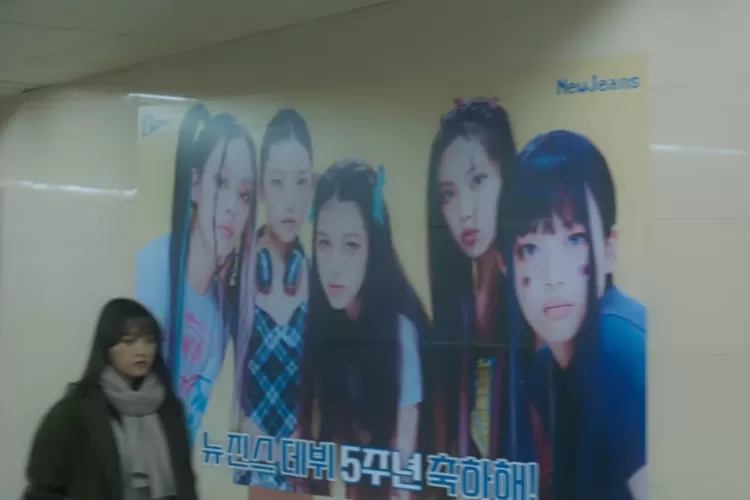 In the drama, it was revealed that NewJeans had already been active as an idol for five years, sparking reactions and comments from netizens.
Also Read : Lisa of BLACKPINK Successfully Creates a Buzz Among World-Class Celebrities Through Her Performance at Crazy Horse
NewJeans, known as a fourth-generation girl group, had only debuted a year ago but had already gained significant popularity.
Despite their recent debut, in the 'Doona' drama, they were portrayed as a K-Pop group that had already been active for five years.
Fans immediately considered this a very positive sign and hoped to see NewJeans maintain their popularity for the next five years and beyond.
"Wait, they've been active for 5 years already? That's an instant blessing from kdrama."
Also Read : Revealing Her Character in the Drama "DOONA," Suzy Admits to Reviving Memories of Her Early Days as an Idol!
"NJ is definitely deserving of becoming a pop culture icon. Does this mean Doona is NJ's junior?"
"NewJeans is truly everywhere."
"May they continue to shine through their 5th, 6th, 7th, and subsequent debuts."
"Wow, their poster instantly became a cameo."
"This drama is from the future; I suspect NewJeans might suddenly provide the soundtrack for Doona."
'Doona' itself tells the story of a former idol's life, starring Suzy, and delves into the life of an idol. The drama, featuring Suzy and Yang Sejong, is available for streaming on Netflix."