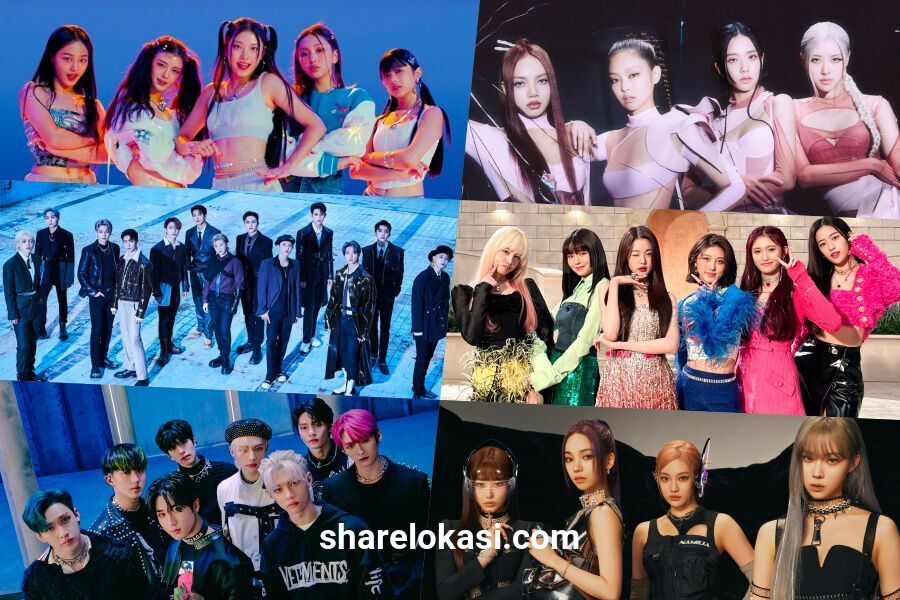 K-pop group's Brand Value – In August 2023, NewJeans, BTS, and IVE secured the top positions in the Brand Value ranking according to the Korea Brand Reputation Research Institute. The assessment of brand value is influenced by consumer participation, community interactions, media exposure, and communication efforts.
Large-scale data collected from July 15th to August 15th, 2023, were analyzed to compile the K-pop group brand value ranking for this month.
Top 10 K-pop Group Brand Value Rankings
This time, the pinnacle of the K-pop ranking is dominated by renowned groups: NewJeans, BTS, and IVE.
Rank 1: NewJeans
NewJeans confidently takes the first position on this list, surpassing BTS by a margin of more than 10,001,027 brand value points. The rising female group has caused a sensation across the internet, especially with the release of their latest work.
Moreover, they have captured attention with stunning performances at major events like Lollapalooza and successfully opened an exclusive pop-up store in downtown Seoul in collaboration with a well-known merchandise brand.
Also Read :BLACKPINK's Jisoo & Actor Ahn Bo Hyun confirmed to be in a relationship
Rank 2: BTS
Meanwhile, the second position is claimed by the legendary septet, BTS, who accumulated over 6,497,937 brand value points. Their success continues to draw attention even as BTS members Jungkook and V launched their solo debuts and dominated the music charts flawlessly. It's no surprise that their name remains at the top ranks.
Rank 3: IVE
Occupying the third spot is the group IVE, with a brand value of 4,895,215 points, also attracting attention with their impressive performance at the 25th World Scout Jamboree concert, where they shared the stage with numerous other K-pop stars.
Rank 4: SEVENTEEN
Following suit, SEVENTEEN brings delight as they secure the fourth rank with a brand value of 4,522,941.
Rank 5: ZEROBASEONE
The fifth rank is claimed by the newcomer group ZEROBASEONE, with a brand value of 3,563,668 points.

Rank 6: BLACKPINK
Next up is the globally renowned girl group, BLACKPINK, under YG Entertainment, who also secured a place on this list with a brand value of 3,424,907 at the sixth position.
Also Read :"Snowdrop" Jung Hae In Comments On BLACKPINK Jisoo's Relationship With Ahn Bo Hyun
Rank 7: NCT
NCT also maintains their position at the seventh rank with a brand value of 3,058,805.
Rank 8: LE SSERAFIM
The competition remains fierce, as seen by LE SSERAFIM's performance, securing the eighth rank with a brand value of 3,057,470.
Rank 9: (G)I-DLE
Meanwhile, (G)I-DLE claims the ninth rank with a brand value of 2,958,303.
Rank 10: EXO
Closing the top ten ranks is EXO, achieving a brand value of 2,878,475.
The strength and appeal of these various K-pop groups continue to create significant waves in the global music industry. The rankings are likely to experience changes in the future. We await to see which K-pop groups will make it into the top 10 ranks.