The love dormitory story of one of BLACKPINK members and her boyfriend, LVMH heir Frederic Arnault, has always captured public attention.
Recently, there have been rumors suggesting that Lisa BLACKPINK and Frederic Arnault have broken up.
A photo allegedly of Frederic Arnault has circulated, showing him intimately hugging a woman.
Also Read : Show Action Again, Song Hye Kyo Donates Historic Artwork by Korean Activist, an Exemplary Actress Role Model!
Upon seeing the photo, netizens speculated that Frederic Arnault was cheating on Lisa.
However, it turns out that the man in the photo is not Frederic Arnault but his brother Jean Arnault and his girlfriend Zita d'Hauteville.
Nevertheless, another rumor has emerged, suggesting that Frederic was dating Lisa for business purposes.
There is speculation that Frederic Arnault decided to end things with Lisa because the recent controversy negatively impacted his family's business.
Also Read : Some Friends of G-Dragon are Participating in The Campaign Created by Fans, 'G-Dragon Guardians of Daisy'
The controversy revolves around Lisa's participation in a dangerous performance at the Cabaret Show Crazy Horse.
However, amid rumors of their breakup, Frederic Arnault behavior on Lisa's Instagram has caught the attention of netizens.
Recently, Lisa posted a video on her personal Instagram account November 16, showing her cooking.
The video provides a behind-the-scenes look as she receives Spotify certification for the song "Money," which has reached 1 billion streams.
In the video, Lisa smiles brightly and proudly receives certification for her impressive achievement.
Also Read : Ahyeon is suspected of leaving BABYMONSTER not because of illness, and it is rumored that she has already paid a fine to YG Entertainment!
The CEO likes Lisa's post, leading netizens to believe that the romantic relationship between BLACKPINK's maknae and Frederic Arnault is still going strong.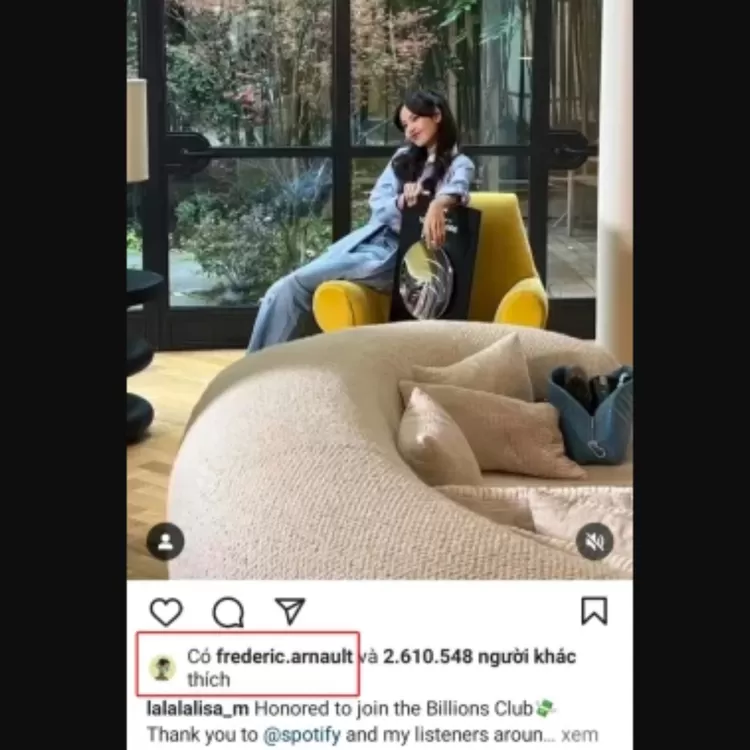 In fact, rumors of Lisa and Frederic Arnault's breakup spread even further after CELINE and BVLGARI deleted Lisa's photos on Weibo.
Netizens' speculation strengthens because CELINE and BVLGARI are luxury brands associated with Frederic Arnault's family.