The manager of BLACKPINK Lisa is reported to have officially left YG Entertainment. According to KBIZoom, Lisa's manager, named Alice Kang, has not been working at YG Entertainment since October 2023.
This can be observed on Alice Kang's LinkedIn account, where it is stated that she no longer works at the agency where Lisa BLACKPINK debuted, YG Entertainment.
The news of Lisa manager leaving YG Entertainment amid Lisa's unclear contract has sparked speculations. Is Lisa BLACKPINK also deciding to terminate her contract with YG Entertainment?
Also Read : Wear CHANEL Items During Exclusive Interview, G-Dragon Allegedly Pays Contract Fine
BLACKPINK contract with YG Entertainment ended in August 2023, and so far, there is no further information about the continuation of Lisa and the group's contract with Yang Hyun Suk's agency. According to KBIZoom, the public now speculates that Alice Kang's departure is related to the extension of Lisa BLACKPINK's contract due to their closeness.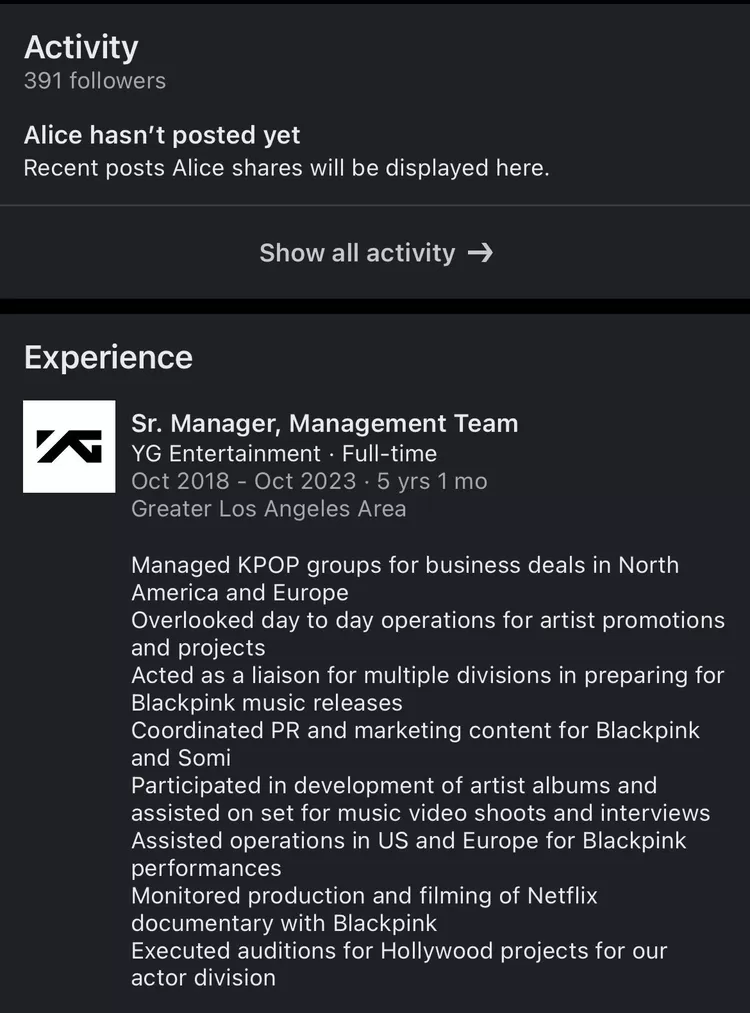 Several other K-pop groups' agencies, such as BTS, SEVENTEEN, and TWICE, have released official statements before the contracts expired, unlike YG Entertainment, which has not provided clarity so far.
Also Read : News of Hyeri and Ryu Jun Yeol Breakup Drags Handsome Actor Jang Ki Yong Name, Is It True Because of This?
In addition, some fans believe that Alice Kang, along with other female managers of BLACKPINK members, only worked with Lisa, Jennie, Rose, and Jisoo for their performance at Coachella.
It's worth noting that Lisa main manager is mentioned to be male, as are the other BLACKPINK members.
Meanwhile, on her LinkedIn account, Alice Kang has been with YG Entertainment for 5 years since October 2018.